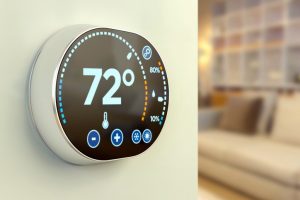 What's The Best Smart Thermostat Plan For Atlanta Residents?
Smart thermostats can potentially save you a lot of money. They're designed to help you reduce your energy usage, thereby reducing the amount you spend on natural gas heating or cooling each month. The Infinite Energy Nest Plan is the perfect way to get your hands on a brand-new Nest smart thermostat without paying for it. This is a great option, and consumers who understand these natural gas rates in Georgia on offer will find this digital-friendly option highly attractive.
What Does The Infinite Energy Nest Plan Offer?
Consumers in the Atlanta Gas & Light service area are able to get their hands on some of the most popular home technology around, the new Nest thermostat, with the Infinite Energy Nest Plan. This natural gas deal is a 24-month fixed-rate contract with one key feature; you'll be supplied a $249 Nest thermostat for free.
How Much Will This Natural Gas Plan Save Me?
A free $249 gadget is great, but is this the cheapest natural gas plan in Atlanta? The Infinite Energy Nest Plan features a cost-per-therm of $0.599, about $0.20 more than the cheapest competing 24-month fixed plan. That makes this plan better for low-consumption users, since the more you use, the more you could potentially save by choosing a lower rate. High-consumption users might want to compare our alternative natural gas plans and rates to find the best natural gas plans in Georgia.
Does This Natural Gas Deal Come With Any Other Costs?
Yes, in addition to the per-therm cost of $0.599 the Infinite Energy Nest Plan also features a $9.95 customer charge each month. Other 24-month fixed rate natural gas plans feature lower service charges, so it's important to take this into account when deciding which deal offers you the best way to minimize your natural gas bill.
How Can I Install My Nest Smart Thermometer?
The Nest system itself is fairly easy to install, usually taking around half an hour. It comes with an easy to use installation guide and is compatible with most low-voltage thermostat wiring. Once it's connected to your WiFi network it can be seamlessly controlled from your phone via the Nest app, or adjusted manually. The Nest smart thermometer is available in a wide range of colors including silver, copper, black and white, and it can integrate easily with other smart natural gas saving appliances.
How Does A Smart Thermostat Save On My Natural Gas Bill?
Unlike old programmable thermostats, smart thermostats like the Nest "learn" your daily routine and fine-tune themselves to your needs. Plus, by tying in to your home's WiFi connection and your smartphone it allows you to remotely control the temperature of your home.
Old thermostats waste energy by only letting you set them to one temperature, and programmable thermostats can be confusing and complicated to program. Because the Nest learns your schedule and tweaks temperature setting depending on local weather conditions, it makes sure your HVAC always heats or cools your home efficiently to your desired comfort levels, and only when you are at home and active. In order to get the most out of your Nest smart thermostat, take a look at some of our top natural gas saving tips.