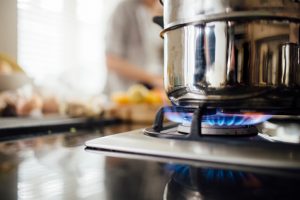 What Do Atlanta's Three Best 12-Month Natural Gas Plans Offer?
As a smart consumer you're always on the lookout for the best Georgia natural gas prices. And with the spring "shoulder" fully underway,  prices are heading lower!  We've picked our top three Atlanta natural gas deals to give you the best options when searching for cheap energy in the Atlanta Gas & Light service area.
Cheap Natural Gas In Georgia
There are three natural gas providers that offer excellent 12-month gas deals for Atlanta residents. Our first pick is the Constellation 12-Month Metro Home Plan, which gives customers a rock-bottom rate of just $0.399 per therm. This is the cheapest rate on the market, and Constellation is a top-rated Georgia natural gas supplier.
What Other Natural Gas Deals Are There?
Our second pick is the SCANA Energy 12-Month Fixed Rate Plan. This provider offers a similarly excellent rate for natural gas consumption at a cost of $0.429 per therm. While SCANA Energy's plan features a slightly higher connections charges than Constellation, if you're a high-volume natural gas consumer thinking about switching Atlanta natural gas suppliers, this one is still very competitive.
Are There Any Flexible 12-Month Gas Plans?
Our final selection for the three best prices for Atlanta natural gas is the SureLock 12 Natural Gas Plan from Xoom. While this plan incurs a higher rate of $0.479 per therm than either of the other two plans, it features a lower cancellation fee; $100 rather than $150. This means that if you decide to switch further down the line you'll be charged less for doing so. This can be a valuable option, but we recommend that consumers seek out the best rates possible. If flexibility is very important to you, take a look at our 6 month fixed rate natural gas plans in Georgia.
How Much Will My Natural Gas Supply Cost?
Each natural gas provider in Atlanta, Georgia has a customer service each month. The aount of this service charge varies from one provider to the next, and can affect which gas service is the right choice for you. The providers listed here all charge about $5.95 per month, which should be factored into the expenses calculation you make when finding cheap natural gas in Georgia.
How Can I Find The Best Prices For Natural Gas?
A great way to find the best deals and prices for gas is to use the GeorgiaGasSavings app! Find out more at https://www.georgiagassavings.com/apps/GA. Download it today for Android and iOS devices to make sure you're always finding the best natural gas plans in Georgia.