2 Month Intro Rate
$0.35 per therm
$4.99 to $9.99
MRC
The 'MRC' or 'Monthly Recurring Charge' is a fee that the provider will add to each of your bills in addition to the gas usage charges.

Variable Rate
$0.39 per therm
$6.95 to $9.95
MRC
The 'MRC' or 'Monthly Recurring Charge' is a fee that the provider will add to each of your bills in addition to the gas usage charges.

1 Month Intro Rate
Introductory Variable Rate - $100 Bill Credit
$0.40 per therm
$5.95 MRC
The 'MRC' or 'Monthly Recurring Charge' is a fee that the provider will add to each of your bills in addition to the gas usage charges.


Atlanta Gas Light History
While most Atlanteans favored lighting the city with gas in 1854, the thrifty city council rejected several plans due to price. But in March, 1855, William E. Helm, a young man who had grown up in the Philadelphia gas business and had already built a gas works in Augusta, arrived with his own proposal. Helme offered to build a coal gasification works and lay three miles of gas mains to light the city's streets, businesses, and homes. To help pay for it, he persuaded the City Council and several influential Atlanta citizens to invest in the new gas company, Atlanta Gas Light Company (AGL). The city agreed and by year's end, gas lamps lit up Atlanta's streets, paid for by AGL company stock dividends.
But success soured just five years later when the Civil War broke out. As the war dragged on, coal supplies dwindled and so did gas. Finally, when General Sherman arrived in 1864, the Union Army burned down the gas works.
With the gas works restored to operation in 1866, Atlanta Gas Light persevered through Reconstruction into the prosperous 1880s. New competitors rose to challenge AGL. Atlanta's first electric lights flickered on in 1881 but took another 2 years to develop for street lighting. More pressing was the Gate City Company which built "water gas" works in 1884, saying its gas was cheaper and cleaner than AGL's "coal gas." A price war raged between the two rival firms for six years, ending only after the United Gas Improvement Company purchased both Gate City and AGL.
The early 1900s saw the spread of unchecked utility holding syndicates. In 1903, the Georgia Railway and Electric Company (GR&E) trust bought control of AGL. It later set up it parent company, Georgia Railway and Power (GR&P), to control the Atlanta energy market. Southeastern Power and Light Company bought GR&P in 1926 and reorganized to form Georgia Power. It then sold AGL to the Chicago-based Central Public Service Corporation which controlled utilities in 17 states.
The 1920s oil boom in Texas and Lousiana sent cheap natural gas down pipelines in all directions. In 1928, the Southern Natural Gas Company began laying its natural gas pipeline from Birmingham, AL, eastwards towards Atlanta. However, AGL secured the franchise rights to bring natural gas into Atlanta before the pipeline company could. After renovating its old city gas lines, AGL laid a connection to the Southern Natural Gas pipeline. By 1930, the combination of cleaner burning natural gas with cheaper gas heat and cooking appliances helped AGL expand out into other Georgia communities.
But by then, the 1929 stock market crash had popped the balloon-like stock values that kept AGL's parent, Central Public Service Corporation, afloat. It soon sank into bankruptcy. As the crisis deepened across the entire U.S. utility industry, investors lost millions and utility service millions of customers was threatened. The US Congress passed the Public Utility Holding Company Act of 1935 to regulate utility holding companies and keep them from owning more than one utility system.
Following hearings and litigation, AGL emerged as an independent, investor-owned utility in 1947. By consolidating with other gas utilities in the state, AGL's service territory expanded in the 1970s. As the 1980s economy grew Georgia even more, AGL expanded to serve 800,000 customers in over 200 communitees.
In 1996, Atlanta Gas Light formed a new parent company, AGL Resources Inc. to control its both its other utility and nonregulated, nonutility subsidiaries. The move enabled AGL Resources to partner and merge with several other energy companies to become one of the largest natural gas distribution companies in the U.S. In 2015, Southern Company bought AGL Resources and with it, Atlanta Gas Light. When Georgia deregulated its natural gas market in 1998, Atlanta Gas Light became a "pipes only" company that distributes gas to customers' homes and businesses throughout much of the state.
Now part of Southern Company, Atlanta Gas Light is the largest natural gas distributor in the Southeast, reliably delivering natural gas to more than 1.6 million customers throughout Georgia.
Atlanta Gas Light Service Territory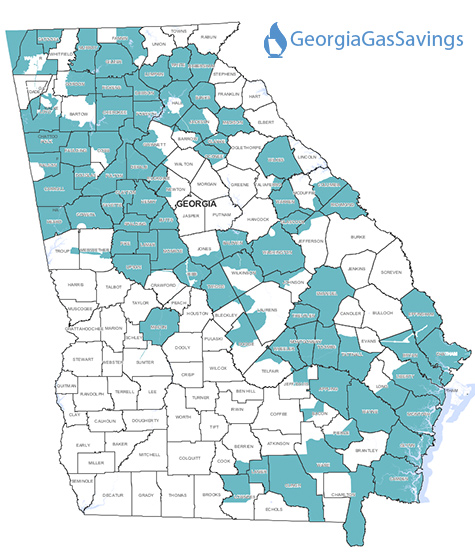 Atlanta Gas Light services 1.4 million customers throughout Georgia:
Appling
Bacon
Baldwin
Banks
Barrow
Bartow
Berrien
Bibb
Bleckley
Bryan
Butts
Camden
Carroll
Catoosa
Chatham
Chattooga
Cherokee
Clarke
Clayton
Clinch
Cobb
Columbia
Coweta
Crawford
Dade
Dawson
DeKalb
Dodge
Douglas
Effingham
Emanuel
Fannin
Fayette
Floyd
Forsyth
Fulton
Gilmer
Glascock
Glynn
Gordon
Gwinnett
Habersham
Hall
Haralson
Heard
Henry
Jackson
Jeff Davis
Jefferson
Johnson
Jones
Lamar
Lanier
Laurens
Liberty
Long
Lowndes
Lumpkin
Macon
Madison
McDuffie
McIntosh
Meriwether
Monroe
Montgomery
Murray
Newton
Oconee
Paulding
Pickens
Pierce
Pike
Polk
Richmond
Rockdale
Spalding
Taliaferro
Tattnall
Telfair
Toombs
Treutlen
Troup
Twiggs
Upson
Walker
Walton
Ware
Warren
Washington
Wheeler
White
Wilkes
Wilkinson
Atlanta Gas Light serves these cities:
Shop for Atlanta Gas Light Natural Gas Suppliers In Your Area.
2 Month Intro Rate
$0.35 per therm
$4.99 to $9.99
MRC
The 'MRC' or 'Monthly Recurring Charge' is a fee that the provider will add to each of your bills in addition to the gas usage charges.

Variable Rate
$0.39 per therm
$6.95 to $9.95
MRC
The 'MRC' or 'Monthly Recurring Charge' is a fee that the provider will add to each of your bills in addition to the gas usage charges.

1 Month Intro Rate
Introductory Variable Rate - $100 Bill Credit
$0.40 per therm
$5.95 MRC
The 'MRC' or 'Monthly Recurring Charge' is a fee that the provider will add to each of your bills in addition to the gas usage charges.

Compare Atlanta Gas Light Natural Gas Rates
Compare alternative supplier natural gas rates
in the Atlanta Gas Light service area.
Enter zip code.
Select energy type.
Choose "residential" or "business".
Click "Shop for Rates".
Natural Gas Charges in Georgia
In Georgia, residential customers pay for both the cost to deliver their natural gas as well as for the amount of gas supply that they use.
Delivery Charges are fixed rate charges (tariffs) representing the cost of pumping natural gas to your home via the Atlanta Gas Light pipe network. The charges cover the AGL local infrastructure operating costs, maintenance, and ensures them a profit. Other usage-based charges are small costs from riders to fund projects, cover fees, etc.
Supply Charges is the price for the amount of natural gas that you use. In Georgia, natural gas customers must get their gas supply from a natural gas marketer.
What Are Natural Gas Marketers?
Natural gas marketers in Georgia shop deals with different producers on the wholesale market to offer competitive rates. This way, retail suppliers are able to offer competitively priced plans for a variety of term lengths.
Though it can seem confusing, shopping natural gas rates is an easy process. The trick is finding the one that meets your needs. That's why retail natural gas suppliers in Georgia offer two types of plans:
Fixed Rate Plans have their price rate set for the same price over the term of the contract. That means customers can count on stable gas rates on plans lasting from 6 to 36 months. While fixed rates can lock you into a price when rates fall, they work best by protecting you when rates gradually rise or suddenly spike. Many fixed rate plans come with early cancellation fees for breaking a contract early.
Variable Rate Plans Want to avoid getting tied to a natural gas plan for months or years? Then choose a variable plan. Variable rate plans can change from month to month depending on the price of natural gas and what the gas marketer's cost. But while there's no contract, there's nothing to prevent your rate from going own one month or rising the next. For that reason, these plans can be very expensive if you don't pay attention to your rate. The best thing to keep in mind is that these plans don't have any termination fees. This gives customers who are between contracts flexibility to have gas service while they shop for a low priced, fixed-rate deal without facing an early termination fee.
How to Start New Atlanta Gas Light Service
In Georgia, the natural gas suppliers handle getting your service started -- as long as your residence has a meter attached to your home. Once there is an active account at the premises, Atlanta Gas Light will start your service by reading the meter and charge you a $25.00 connection fee on your first bill.
If your home does not have a natural gas meter, you can request AGL install one. They usually respond in two business days. The meter intallation charge is around $50. You'll also need to select a natural gas marketer for gas service.
Will I Need to Pay a Deposit?
Atlanta Gas Light does not require a deposit from a new, prior or existing residential customer.
However, natural gas providers in Georgia do check your credit worthiness before setting up your account.
A natural gas marketer can use your credit rating and payment history to determine your monthly customer service charge, your eligibility for certain rate plans, and if you must pay them a deposit. They may also use this information to set the rate you pay for natural gas supply.
A marketer can also request your payment history or additional information from another utility service (electricity, telephone, or gas) as a condition of service.
By law in Georgia, deposits shall not exceed $150 for a residential customer.
Be ready to supply:
Service Address: The address where you want your service turned on or switched.
Personal Information: You will need your name, phone number, email address, and your Social Security Number. These will be required.
Unfrozen Credit: If you have frozen your credit with any of the major credit agencies, you will need to have it temporarily unfrozen.
Understand Atlanta Gas Light Charges
In Georgia, residential natural gas usage is measured in therms.
What is a "Therm"?
On average, the current natural gas heat content is about 1,037 BTU per cubic foot. So that means 100 cubic feet (or 1 ccf) of natural gas equals 103,700 BTUs or 1.037 therms.
According to figures used by the Georgia Public Service Commission (PSC), the average residential customer uses 717 therms annually.
That's works out to an average of 59.75 therms per month, with higher amounts in winter, lower in summer.
Understand Your Atlanta Gas Light Usage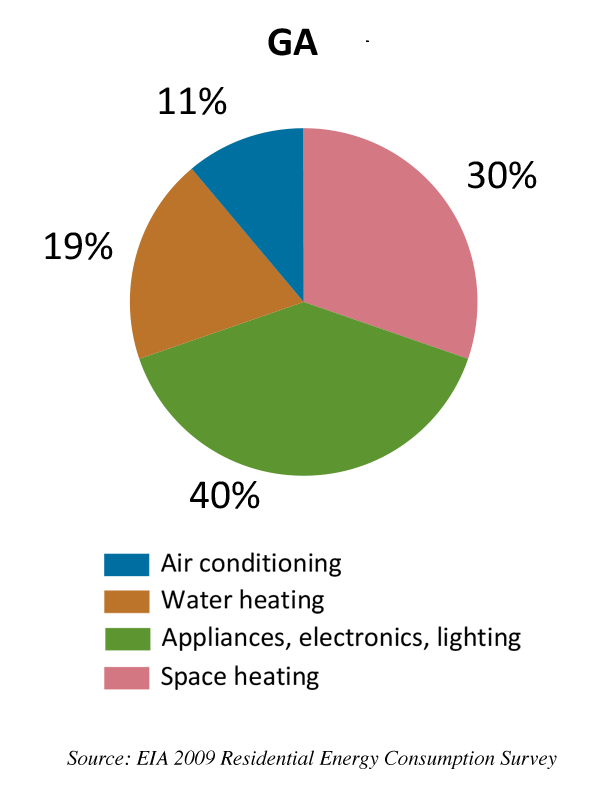 Georgia is one of the top 25 natural gas consuming states. However, more than half the gas that enters the state goes to generating electricity. In terms of residential use, up to 30% of an average home's energy usage goes to space heating. The rest is used for heating water, running clothing dryers, and cooking. Natural gas makes up 38% of energy used for home heating in Georgia.
According to the Georgia PSC estimates, the average Georgia home uses roughly 59.75 therms per month. Because wholesale natural gas rates can fluctuate monthly, the price per therm offered by natural gas providers can change, too.
The best way to cut your gas bill is to reduce your usage:
Seal your doors and windows against winter drafts. Not only does it keep out the cold, moist air but it also reduces the amount of mold, pollen, and other allergens getting into your home.
Sealing leaks in your HVAC will increase its efficiency and reduce its run time.
Add insulation to your attic, crawlspace, and duct work.
Install a programmable or smart thermostat. Programming it to set-back the temperature when you're away or inactive can improve your home's energy efficiency and help cut your electric bills.
Atlanta Gas Light also offers customer tips to help your pinpoint ways to save energy in your home.
What Are Atlanta Gas Light Pass-Through Charges?
Atlanta Gas Light sends your distribution charges to your natural gas provider. Your provider passes through these charges to you on your monthly bill. These "pass through" charges also called a "base charge" or "AGL charge".
AGL Pass Through Charge Breakdown
| | |
| --- | --- |
| Customer Charge | - the fixed monthly cost that pays for your home's gas connection |
| Ancillary Service | - this covers the cost of meter readings |
| Firm Distribution Charge* | - the cost for delivering gas to your home through the AGL pipe network. |
| Peaking Service* | - this covers the cost of operating AGL's storage facilities above ground on the coldest day of winter. It only applies to customers in the Valdosta, Macon, or Atlanta delivery areas. |
| Social responsibility fee | - this is a contribution that funds AGL's senior citizen discount program. You don't pay it if you receive this discount yourself. |
| Environmental Response Cost Charge* | - your contribution towards any costs incurred by environmental clean-ups carried out by AGL gas plant sites. |
| Franchise Recovery Fee* | - this covers the fees AGL has to pay to local government if they want to put facilities and gas lines on public rights-of-way. |
* NOTE -- The exact charge amounts are affected by your home's Dedicated Design Day Capacity (DDDC). [See below.]
Understand the Dedicated Design Day Capacity (DDDC)
Each customer's home in every city in Georgia served by AGL uses a certain amount of natural gas, with the highest demand falling on the coldest day of the year. Pumping natural gas to each home and business comes with specific costs to AGL. To pay for it, every August AGL recalculates its Dedicated Design Day Capacity (DDDC) factor for each meter within its service area. The peak usage of each home or business during the past winter is evaluated and assigned a value. Higher demand customers get a higher value; lower demand a lower value. This is the DDDC factor and it can result in higher or lower charges on your monthly bill.
The DDDC factor can be found on your monthly bill near your AGL account number.
The Dedicated Design Day Annual Capacity Charge is billed according to this schedule:
| Month | Percentage |
| --- | --- |
| January | 18% |
| February | 19% |
| March | 15% |
| April | 8% |
| May | 4% |
| June | 3% |
| July | 3% |
| September | 3% |
| October | 3% |
| November | 7% |
| Deceember | 7% |
As you can see, DDDC charges change to some degree each month. Charges are lower in summer, but a little more in winter.
According to data from the GA PSC, an average customer in 2021 with a 1.30 DDDC Factor paid about $27.50 each month in base charges from June to October.
Meanwhile, during the higher usage months, January and February, an average customer with a 1.30 DDDC Factor paid about $31.00 in January and $47 in February in base charges.
Atlanta Gas Light Coupons, Energy Promotions, Discounts, Rebates and Promo Codes
As your local natural gas utility, Atlanta Gas Light offers several great rebate opportunities to help customers save money off their monthly bill by upgrading their home's natural gas appliances to newer, more efficient models.
Program Name
Program Type
Benefit
Residential Natural Gas Appliances Rebates
Rebate Program

Electric and propane water heaters can be expensive to operate. The same goes for heating and clothes dryers. You could earn hundreds of dollars in rebates by converting to a new natural gas furnace, water heater, or dryer.

Tank Style Water Heater - $400
Tankless Water Heater - $700
Furnace - Up to $1,000
Dryer - Up to $200
SCANA Energy Regulated
Bill payment assistance

The SCANA Energy Regulated Division provides service to low-income households that have been unable to obtain or maintain service from another marketer.
Qualifying customers purchase their natural gas supply at a price regulated by the Georgia Public Service Commission.

Seasonal Hold
Bill payment assistance
In Georgia, a utility can not discontinue gas service to a residential customer from Novmeber 15 to March 15. However, the customer must pay all past due charges in installments starting after March 15 and ending before October 15.
Senior Citizens Discount Program
Bill payment assistance
Customers 65 years of age or older and who have a total annual combined household income of $25,760 or less are eligible for a monthly discount of up to $14 off their base charge.
AGL provides a Senior Citizens Discount application and other important information on energy assistance. Completed applications must mailed to AGL.
HopeWorks
Bill payment assistance
Seniors 65 and older may qualify for a gas furnace or water heater repair from HopeWorks.
To qualify, yo must own your home, meet program financial guidelines, and purchase gas from an approved natural gas marketer.
Low Income Home Energy Assistance Program (LIHEAP)
Bill payment assistance
Federal grant to help pay your winter heating bills. You must apply each year for assistance.
Project SHARE
Bill payment assistance
Crated by the Salvation Army, Project SHARE provides a one-time emergency gas bill payment assistance to individuals and families facing a temporary crisis that threatens their home.
Heating Energy Assistance Team (HEAT)
Bill payment assistance
Heating Energy Assistance Team, Inc assists households with avoiding energy service disconnections or restoring service.

total gross yearly household income is at or below 60 percent of Georgia's median income level
bill must be in the applicant's name;
applicant must be a US citizen, qualified alien, or permanent resident
applicant must have received a disconnection notice or need to restore service.
Atlanta Gas Light Reviews
Because Atlanta Gas Light serves a large southern market, knowing how well it ranks among similar large-scale incumbant utilities can tell you a lot about how well it serves its customers. Atlanta Gas Light is accredited with the BBB. However, it has not participated in J.D. Power's utility residential customer satisfaction studies, nor in Escalent's Utility Trusted Brand & Customer Engagement™: Residential studies.
GA Energy Ratings Score
Better Business Bureau
J.D. Power 2022 Gas Utility Study
Escalent 2021 Utility Study
N/A
Accredited
A+
NA
NA
How do I get the Cheapest Atlanta Gas Light Rate?
Shopping for The Best Natural Gas Rate in Georgia can be bewildering at first. However, once you understand how it works, it's an easy and straightforward process. To start, be sure you have these three things with you when you shop for a natural gas marketer.
Your current bill. Your past usage per billing period can help you estimate a how much a plan might cost you each month.
The current plan's rate and contract expiration date. Knowing your gas usage gives you a price to compare with retail gas suppliers. This way, you can get a better feel for what they're offering, for how long, and if any of their incentives make their price work for your family's need.
Be sure to unfreeze your credit with any of the major credit agencies. Gas marketers can use your credit your credit rating and payment history to determine monthly customer service charges, plan rates, and deposits if neccessary.
Atlanta Gas Light Shopping Questions
Often when you know the right questions to ask you'll learn exactly what you need to save money or avoid making a bad choice. When you shop for natural gas service in Georgia, always be sure to ask these important questions:
Is the rate variable or is it fixed?
How long does the plan last?
What happens when the contract expires?
Does the plan have any recurring charges?
Does the plan come with an early cancellation fee?
Does the supplier offer any customer incentives or rewards?
Basic Questions About Natural Gas Service in Georgia
Who bills me? Your natural gas supplier sends you a single bill that outlines and adds up your monthly charges. These charges include your Atlanta Gas Light charges.
What are the Terms of Service? The Terms of Service explain and identify specific charges and any fees a customer will face when they sign up for an natural gas plan. Many suppliers offer different rates for plans with different term lengths. All natural gas customers in Georgia should read and understand the terms of service and contract summary for any plan they are interested in before they sign on to the plan.
What are early termination fees? Switching retail suppliers before a contract ends can involve paying early termination fees. These can take a chomp out of your checking account you if you want to switch retail providers before your natural gas plan contract ends.
Where can I find more information on my usage? Natural gas customers can track their gas usage plus other relevant information through their account with their natural gas supplier.
How much does it cost to switch? Customers are allowed to switch to a new provider once every 12 months for free. After that, AGL will charge charge the customer $7.50 for each additional switch.
How Long Does It Take To Switch?
Timing your switch is also important. Because Atlanta Gas Light processes all the all market switch requests in its service area, delays can occur. Usually though, customers that ask to switch before the 18th of the month usually get switched by the first day of the next month. For example, if you apply to switch by April 15, you'll probably be switched to your new provider on May 1.
However, if a customer requests to switch after the 18th of the month, it's likely they won't be moved to their new provider until the month after. For example, if you apply to switch by April 20, you'll probably be switched to your new provider on June 1.
Compare Natural Gas Rates in Your Area
Natural Gas Service Out? Do You Smell Gas? Here's who you contact
Having some kind of problem with your Atlanta Gas Light natural gas? Here's the proper people to call:
Unpaid Bill? - You want to contact Atlanta Gas Light. If you have trouble paying your monthly bill call Atlanta Gas Light's Customer Service:1-800-427-5463
Natural gas service outage? Call Atlanta Gas Light immediately.
What If You Smell Natural Gas?
Natural gas leaks are extremely dangerous. Any kind of spark can ignite an explosion. Leave the area immediately if:
You SMELL natural gas.
Mercaptan is added to natural gas to give it the distinctive stink of rotten eggs.
You HEAR unusual sounds like hissing or whistling.
You SEE a damaged connection to a natural gas appliance, dirt or water blowing into the air, a dry patch of grass, or a fire or explosion near a pipeline.
Don't try to find the source of the leak. Just stop what you're doing and move to a safe distance at least 350 feet away.
Call 911 immediately and then notifiy Atlanta Gas Light of Georgia at 1-877-427-4321!
Always be very careful when removing snow or ice from your natural gas meter. Only use your hands or a broom to clear snow or ice from your meter and regulator. Never use a shovel and never kick or hit your gas meter or its piping with any hard object to break away built-up snow or ice.
Atlanta Gas Light Providers
Zip Codes with the Cheapest Natural Gas Rates in Georgia