Compare Gas South Gas Rates
We analyze, rank, and recommend the best plans from the highest rated providers.
Variable Rate
$0.39 per therm
$6.95 to $9.95
MRC
The 'MRC' or 'Monthly Recurring Charge' is a fee that the provider will add to each of your bills in addition to the gas usage charges.

6 Month Fixed Rate
$0.69 per therm
$6.95 to $9.95
MRC
The 'MRC' or 'Monthly Recurring Charge' is a fee that the provider will add to each of your bills in addition to the gas usage charges.

6 Month Fixed Rate
$1.19 per therm
$6.95 to $9.95
MRC
The 'MRC' or 'Monthly Recurring Charge' is a fee that the provider will add to each of your bills in addition to the gas usage charges.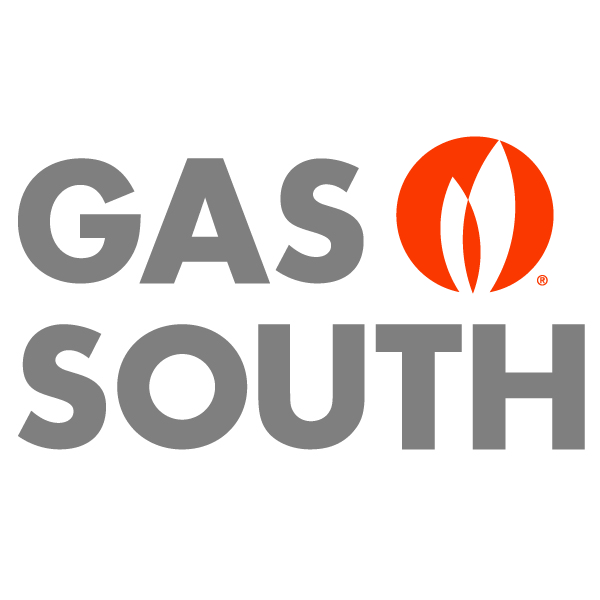 About Gas South
Formed in 2006, Gas South has grown to become the largest natural gas retail provider in Georgia. In 2020, the company acquired Florida-based energy provider Infinite Energy and has expanded its service to more than 425,000 customers in 14 states. Over half, some 250,000 residential, business and governmental customers, are in Georgia.
Gas South is also well known for its philanthropy. Gas South has won numerous awards, including the Corporate Volunteer Council Project Impact Award, the goBeyondProfit Champion Award, and has been recognized as one of the "Top Workplaces in Atlanta" by the Atlanta Journal-Constitution.
In The Community
Gas South strives to make a difference by investing in the communities it serves. Each year, as part of its commitment to "Be A Fuel For Good," the company gives 5% of profits to support children in need. That's more than $9 million from 2006 to 2021. Over the past three years, the company has donated about half a million dollars to support children's charities, provide COVID-19 Relief, and help community nonprofits and children's agencies.
Gas South has also committed to investing $50 million to solar projects by the end of 2023 to help create a more sustainable world for future generations.
Gas South Customer Assistance Service
Gas South serves residential and business customers in the Atlanta Gas Light service territory. So, Gas South makes it easy to manage your account, transfer your service to a new address, and pay your bills.
If you are currently unable to pay your bill, Gas South offers residential and small commercial customers pay plans. Customers should all customer assistance at 1 (877) 472-4932 to discuss their payment options.
For customer experiencing financial hardship, Gas South has partnered with several Georgia nonprofit organizations to help provide assistance with your natural gas bill.
Variable and Fixed Rates
Your natural gas should be easy. So, whether you're signing up for the first time or renewing your existing plan, you can count on simple, straightforward rates and plans designed to meet the needs of your home or business.
Gas South's plan prices depend mainly on whether the plan's rate is variable or fixed.
Fixed Rates -- these types of plans have prices that won't change. Once you agree to a fixed rate plan, the contract keeps the price per therm charge constant throughout the term of the contract. Fix rates shield you from rising rates but they also can make you feel trapped when rates fall. Consequently, getting the best rate can depend on when you shop.
Variable Rates -- these types of plans reflect the market rate for natural gas. Because the market rate changes constantly, Gas South can change the price per therm for these plans from month to month. Some times of the year also tend to see higher prices than others so your rate will reflect those prices.
Compare Gas South Rates
| | |
| --- | --- |
| Plan Name | Price/Therm |
| Gas South 6 Month Fixed | $0.690 |
| Gas South 12 Month Fixed | $0.650 |
| Gas South 24 Month Fixed | $0.690 |
*All rates are subject to credit approval.
Gas South Variable Rate Natural Gas Plans
| | |
| --- | --- |
| Plan Name | Price/Therm |
| Introductory Variable Rate (1st Month) | $0.390 |
Compare Gas South Rates in Your Area
Natural Gas Charges in Georgia
Customers must pay for two set of charges on their monthly natural gas bill.
Gas Supply charges: The natural gas supply from your provider is charged by the "therm".
AGL base charges: This is the charge from the gas utility for transmitting your gas supply through their pipeline network to your home.
Average Therm Usage
According to figures used by the Georgia Public Service Commission, the average residential customer uses 717 therms annually.
That's works out to an average of 59.75 therms per month.
What is a "Therm"?
Wholesale natural gas prices are determined by heat content in British Thermal Units (BTUs). But natural gas companies use gas meters to measure the amount of gas used, not the heat content of the gas.
For this reason, gas companies use a "therm factor" to convert the volume of gas used to its heat equivalent. Because the heat content of natural gas for every 100 cubic feet (CCF) can change, the therm factor also changes.
On average, the current natural gas heat content is about 1,037 BTU per cubic foot. So that means 1 CCF of natural gas equals 103,700 BTUs or 1.037 therms.
Average AGL Charges
Atlanta Gas Light (AGL) is the utility in Georgia that owns, maintains, and repairs most of the state's natural gas distribution pipeline network. They see to it that your natural gas supply is safely piped to your home. And they also transmit meter reading information to your Gas Retailer, who then bills you.
Customer's bills depend mainly on how much gas they use. While winter usage can be high, summer usage can be almost non-existant. Depending on the time of year, AGL "base charges" (or "pass through charges") can make up most of your monthly natural gas bill. The two largest pieces of the AGL charges consist of the Customer Charge and the Dedicated Design Day Capacity (DDDC) charge.
The Customer Charge is a fixed $20.00 per month that pays for residential customers to be connected to AGL's pipe network.
The Dedicated Design Day Capacity (DDDC) charge is based on your home's demand on the system during the coldest day of the year. This way, high usage customers must contribute more than other customers. The DDDC charge follows the typical peaks and valleys that come with seasonal usage so it's never the same from month to month.
All changes to AGL's charges must be approved by the Georgia Public Service Commission before they can go into effect.
Gas South and Your Credit Score
For residential customers that apply for service, Gas South may require a consumer credit score. The company can use your credit score, your payment history, or other information you provide as a way to set your rate per therm. It can also be used to determine your monthly customer service fee, your eligibility for certain rate plans, and if you must pay a deposit. Your payment history or additional information such as your payment history from another utility service (electricity, telephone, or gas) may also be required as a condition of service.
For residential customers who do get not approved, Gas South may require a deposit for service. Deposits shall not exceed $150 for a residential customer and if you pay your bills on time for six months, your deposit will be refunded within 60 days.
For those residential customers who do get approved, Gas South does not require a deposit for service.
How do I get the Cheapest Gas South Rate?
Keeping all this information straight can be confusing. That's why we've put it all in one place and created a step by step guide to help you get the cheapest natural gas rate in Georgia.
Just follow these three basic steps:
Don't forget that Gas South plans can offer money saving incentives like $20 in bill credits, plus if your credit is approved, you won't have to pay a deposit up to $150.
Gas South Rates for Atlanta
Variable Rate
$0.39 per therm
$6.95 to $9.95
MRC
The 'MRC' or 'Monthly Recurring Charge' is a fee that the provider will add to each of your bills in addition to the gas usage charges.

6 Month Fixed Rate
$0.69 per therm
$6.95 to $9.95
MRC
The 'MRC' or 'Monthly Recurring Charge' is a fee that the provider will add to each of your bills in addition to the gas usage charges.

6 Month Fixed Rate
$1.19 per therm
$6.95 to $9.95
MRC
The 'MRC' or 'Monthly Recurring Charge' is a fee that the provider will add to each of your bills in addition to the gas usage charges.

Gas South offers great low rates in these cities:
Gas South Reviews
Gas South is a Top provider as ranked by GeorgiaGasSavings.com. They've also received a JD Power score of 692 in 2013 (the last year of JD Power Ratings in Georgia). Gas South has an A+ rating with the BBB, and consistently ranks amongst the lowest complaints received with the Georgia PSC.
| | | |
| --- | --- | --- |
| 2021 GeorgiaGasSavings Ratings | 2013 JD Power Ratings | 2019 Better Business Bureau |
| 1 Star | 692 | A+ |
Understand Your Gas South Bill
Knowing what to expect from a gas provider on a monthly bill can make shopping for a retail gas provider in Georgia a whole lot easier.
The typical one page Gas South bill shows many details that can be confusing to customers. However, there's practical information that can help you better understand your usage. Below, we summarize the most important items you need to understand on a sample Gas South bill.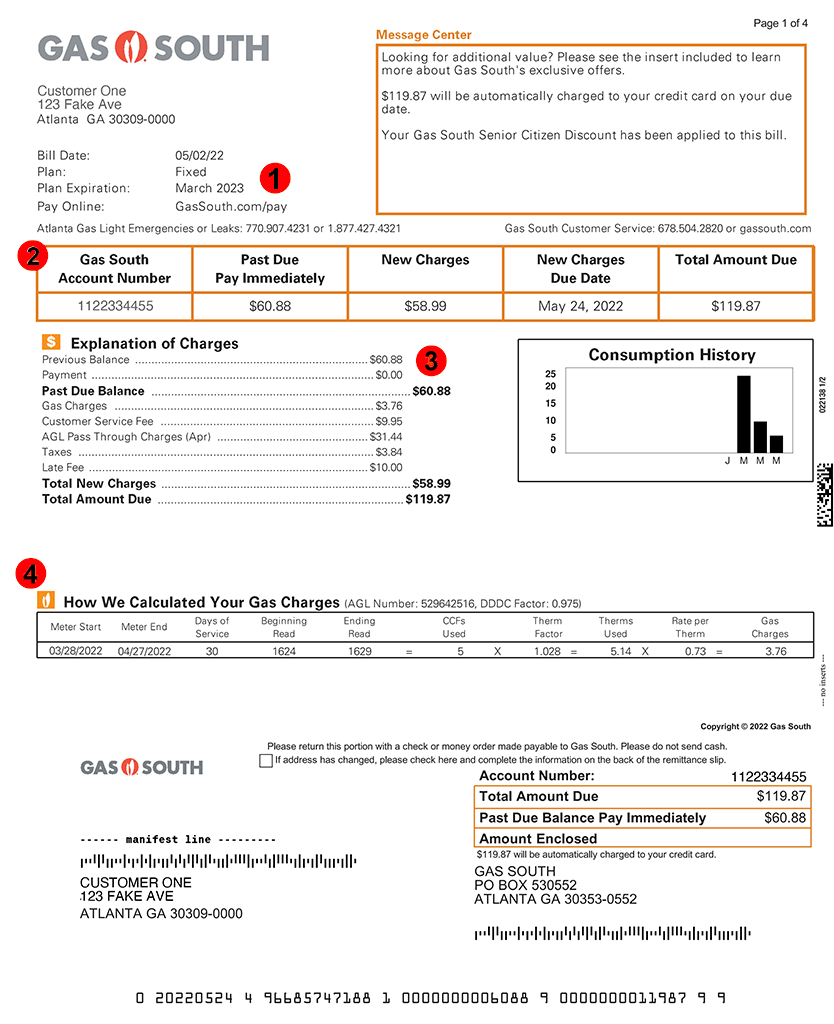 1: Bill Overview. This section shows your current Gas South plan information. It show the date of the bill, whether the rate is fixed or variable, the plan expiration date, and how to pay the amount on-line.



2: Current Charge Summary. This shows your 10 digit Gas South account number, the amount past due (if any), the new gas supply charges, the bill's due date, and the total amount due.



3: Explanation of Charges. This section breaks down the current bill charges mentioned above. It also includes the customer service fee and the AGL pass-through charges. To the right of this is a graph that shows your usage history for the past year.



4: How We Calculated Your Gas Charges. This area shows the meter reading start and end, dates, the service dates, the cubic footage used, therm factor, rate per therm, and the gas charges.



Gas South Bill Credits and No-Deposit Plans
Gas South offers a $25 bill credit for previous residential customers who choose to reconnect with them.
There's no deposit (keeps up to $150 in your pocket) and you can schedule service up to 90 days in advance.
According to Georgia PSC rules, all natural gas providers can charge a deposit for gas used for personal, family, or household purposes. Such deposits can not exceed $150.00 based upon what the company expects your usage for the upcoming 12-month period. And because the customer's creditworthiness determines whether the provider will charge them a deposit, it can be a big problem for customers with little or credit history, or have bad credit.
Gas South does not charge a deposit to qualified customers. For other residential customers, Gas South may require a deposit for service depending on your credit score and payment history.
However, Gas South does offer the Bridge Plan.
The Bridge Plan is designed for customers with little or no credit. They can sign up for a fixed or variable rate at a slightly higher than average standard rate. After 12 months of good payment history, customers can move down to a lower standard rate. You'll save money while building up your credit.
Gas South Senior and Military Discount Plans
If you're over age 65, you can qualify a senior discount on both the price per therm and a lower customer service fee. These discounts are available for both fixed and variable rate plans.
It's also easy to apply for. You can automatically receive this discount when you sign up for service and enter your birthdate.
Customers who are active military or veterans can also qualify for a discount on Gas South natural gas rates.
| | |
| --- | --- |
| Senior Discount | $02 Discount |
| Military Discount Plan | $02 Discount |
Plus, if you have a total annual combined household income of $25,760 or less, you're eligible for a monthly discount of up to $14 on your AGL base charge through their Senior Citizens Discount Program.
Gas South Moving
If you're moving across the state or across town, Gas South makes it easy to transfer your service to your new home. Just fill out their transfer form and you're set.
Though 60 days is usually recommended, Gas South allows its customers who are relocating within the state to schedule new service as far as 90 days in advance.
If you're a Gas South customer and you're moving out of state, just contact Gas South customer service at 1-877-472-4932 to set up a final meter read and your new billing address.
Compare Gas Providers
Zip Codes with the Cheapest Natural Gas Rates in Georgia
How to Save On Your Natural Gas Bills in Georgia
Georgia is among the top 10 electricity-producing states in the nation. Natural gas now accounts for about half of the state's net electric generation, making the electric power sector the largest natural gas consumer in Georgia.
Because Georgia must bring in nearly all of its natural gas supply through pipeline, the Average Cost for Residential Natural Gas Delivered in Georgia depends on national supply and demand.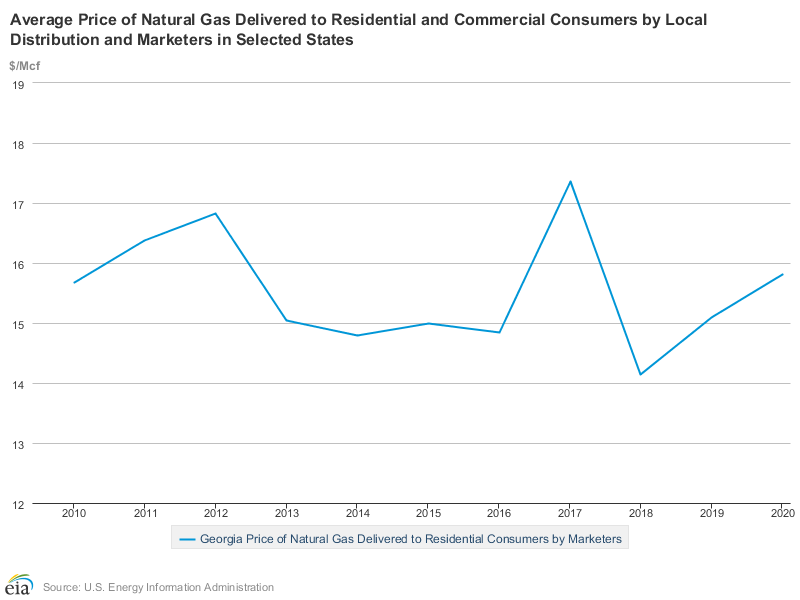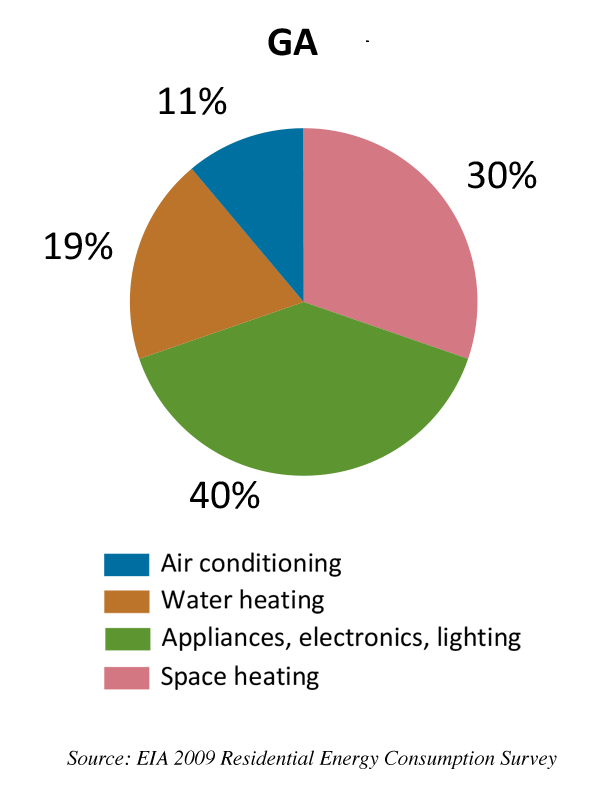 According to the DOE's Energy Information Agency (EIA), 38.6 % of Georgia households use natural gas for heating.
All told, 54% of homes in Georgia in 2020 relied on natural gas. That's 2.08 million homes.
Your energy usage habits are unique, but as any Georgian will tell you, winters can get quite frosty while summers can be hot, hazy, and humid. So, your biggest energy usage will usually follow the weather. However, remember that all those other domestic activities, like cooking, heating water, and cleaning, will also add to your monthly gas bill.
The best way to cut your gas bill (and your summer electric bill) is to reduce your usage.
Keeping your home energy efficient not only reduces your energy bills but also keeps it more comfortable:
Seal your doors and windows against winter and summer drafts. Not only does it keep out the cold or hot air but it also reduces the amount of mold, pollen, and other allergens getting into your home.
Add insulation to your attic, basement, and duct work.
Install a programmable or smart thermostat. Programming it to set-back the temperature when you're away or inactive can improve your home's energy efficiency and help cut your annual heating and cooling bills by as much as 18%.
Your heating, ventilation, and air conditioning (HVAC) system uses the most energy in your home. Keeping it well maintained and clean not only can save you money, it can also prevent expensive repairs and reduce allergens.
Get your furnace periodically inspected (at least every other year) to be sure it is operating safely and at peak efficiency.
Change your HVAC air filter every three months. Change it monthly if you own pets or smoke. A clogged air filter forces your system to run longer and cost your more.
Other appliances that use natural gas, such as water heaters, clothes dryers, cook tops, and ovens, also may require periodic care and cleaning.
Set the thermostat on your natural gas water heater below 120°F.
Improve the insulation on your water heater by installing water heater jacket.
Add pipe insulation to your hot water plumbing near your hot water heater.
Once a year, drain your water heater to flush sediments from the bottom.
Clear the lint build up from your clothes dryer exhaust duct yearly. This not only improves efficiency but also reduces the chance for fire.
Always shut off the gas to your stove and oven burners when not in use. And never use your oven to heat your kitchen.
Be sure to check out our other Natural Gas Savings Tips.