Compare SCANA Energy Gas Rates
We analyze, rank, and recommend the best plans from the highest rated providers.
12 Month Fixed Rate
$0.64 per therm
$6.95 MRC
The 'MRC' or 'Monthly Recurring Charge' is a fee that the provider will add to each of your bills in addition to the gas usage charges.

6 Month Fixed Rate
$0.69 per therm
$6.95 MRC
The 'MRC' or 'Monthly Recurring Charge' is a fee that the provider will add to each of your bills in addition to the gas usage charges.

1 Month Intro Rate
Introductory Variable Rate - $100 Bill Credit
$0.40 per therm
$5.95 MRC
The 'MRC' or 'Monthly Recurring Charge' is a fee that the provider will add to each of your bills in addition to the gas usage charges.

SCANA Energy
At SCANA Energy, the entire story isn't about our low natural gas rates. At lest, not the entire story. It is also about one of the most important aspects in many of our lives: community. Making the differences in the lives of the individuals we serve, and not just with our affordable natural gas rates. But also with things like our Homework Centers, which give young students a place to study after school. Or our support of the U.S. Armed Forces with the USO of Georgia or the United Military Care, Inc. We offer Energy Assistance on builds through the Atlanta-based Heating Energy Assistance program, or HEAT. At the end of the day, we do all of this and more because at SCANA Energy, we believe that having a healthy and thriving community is as important for a succesful business as providing quality, customer-service based products for our customers! Believe us, thereare a lot of things we believe make SCANA Energy different.
By choosing SCANA as your natural gas provider, you can count on:
Low natural gas rates for everyone
Excellent Customer Service
Support for Our Community
No Hidden Fees
Compare SCANA Energy Natural Gas Rates
Compare SCANA Energy Gas Rates
SCANA Natural Gas Prices & Rate Plans
No one has the time to spend hours researching and shopping for natural gas. It is supposed to be straightforward, but that isn't often the case. However, at SCANA we do make it easy or customers to compare and shop for natural gas rates. Whether it's your first time shopping for natural gas, or you're a veteran of the deregulated natural gas marketplace, one thing you can count on is SCANA energy plans and natural gas rates with no surprises and fair rates.
Fixed Natural Gas Rates It means just what it says, customers who order a SCANA fixed natural gas plan will pay the same rate for natural gas for the duration of their contract. What it means is that customers don't have to worry about any surpises on their bills at the end of every month. Low rates and peace of mind is a pretty compelling sales pitch. Early cancellation fees may apply if you terminate your natural gas plan before the contract expires.
Variable Rates Want the flexibility that comes with not having a contract or your natural gas plan? Variable rates are the way to go. SCANA offers a great introductory variable rate and will allow customers to switch to the flexibility of a fixed rate natural gas plan without penalty. However variable natural gas prices and rates fluctuate with the natural gas market
*Rates are subject to credit approval and a $5.95 or $6.95 customer service fee applies.
How to Start New SCANA Natural Gas Service
Starting SCANA Energy service is easy. For starters, you can sign up for SCANA Service right here on Georiga Gas Savings. You're just a few cliks away from ordering natural gas service from SCANA Energy. Just get started by selecting any of the plans below and clicking the Sign-Up button. But before we start, you'll need a few things handy or prepared:
Personal Information: You will need your name, phone number, email address, and your Social Security Number. These will be required.
Unfrozen Credit: If you have frozen your credit with any of the major credit agencies, you will need to have it temporarily unfrozen. A soft credit check is required by all natural gas companies to determine if a deposit is required.
Service Address: The address where you want natural gas service turned on or switched.
Understanding Your SCANA Energy Bill
A natural gas bill has a LOT of different line items that can be confusing to customers. Here is where we break down the most important items. Below is a sample SCANA Energy natural gas bill.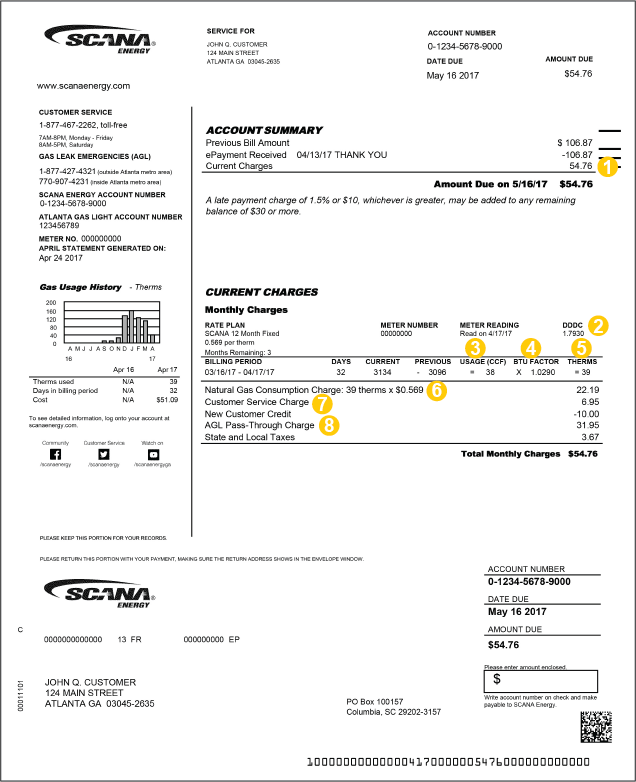 Total Amount Due: The total of all your SCANA charges. Current charges, credits, and any remaining balances from previous SCANA bills. This is what you owe.
Dedicated Design Day Capacity: This is the space reserved on the pipes for you on the pipeline so that you get gas service.
Usage CCF: Amount of gas used.
BTU Factor: Heat Energy in natural gas. You multiply this number by the CCF used to get the actual energy usage, which is the Therms.
Therms: Amount of natural gas you're consuming.
Natural Gas Consumption Charge: Your gas rate multiplied by the numner of therms you used.
Customer Service Charge: Monthly charge which covers account maintainence and services rendered to the customer.
AGL Pass-Through Charges: What Atlanta Gas & Light charges for maintaining the infrastructure you use to recieve natural gas. Pipelines, meter readings, etc.
SCANA Senior and Military Discount Plans

SCANA offers the below opportunties for certain customers to reduce their SCANA natural gas bills.
| | | | |
| --- | --- | --- | --- |
| Provider | Type of Discount | One Time or Ongoing | Amount |
| SCANA Energy | Military Discount | Ongoing/Monthly | 3 cents per therm |
| SCANA Energy | Senior Citizen Discount | Ongoing/Monthly | 3 cents per therm |
Rates are subject to credit approval. A $9.95 customer service fee applies.
SCANA Reviews
SCANA is a Top Ranked provider as ranked by GeorgiaGasSavings.com. They've also received a JD Power score of 710 in 2013 (the last year of JD Power Ratings in Georgia). SCANA has an A+ rating with the BBB, and consistently ranks amongst the lowest complaints received with the Georgia PSC.

| | | | |
| --- | --- | --- | --- |
| Provider | 2019 GeorgiaGasSavings Ratings | 2013 JD Power Ratings | 2019 Better Business Bureau |
| SCANA Energy | 3.690 | 692 | A+ |
SCANA Coupons, Energy Promotions, Discounts, Rebates and Promo Codes
SCANA Energy has a few options and discounts available to save some money. As referenced above, there are discounts available to both Military personnel as well as for senior citizens. These are discounts that qualifying SCANA customers should explore to determine whether or not that qualify. SCANA also may run occasional discounts or promotions for other categories of customers. SCANA does not appear to be offering any special promo codes or rebates at this time.
How do I get the Cheapest SCANA Rate?
We've created a step by step guide to help you get the cheapest natural gas rate in Georgia.
There are three basic steps
Gas Problem? Heres who you contact:
Having some kind of problem with your SCANA Energy natural gas? Here's the proper people to call:
Compare Georgia Gas Rates
Georgia Gas Providers
Zip Codes with the Cheapest Natural Gas Rates in Georgia