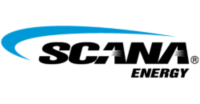 SCANA Energy Resources
SCANA Energy began serving residential and commercial customers in 1997. They are a subsidiary of SCANA Corporation, a trusted source of energy in the Southeast for more than 160 years. SCANA Energy serves more than 475,000 households and businesses across Georgia. SCANA routinely has some of the lowest
Natural Gas Rates in Atlanta
. We rate them as a "Market Leader" in their pricing. They tend to match or beat the market average price by 10%-20%.
---
4-5 Star Reviews: 53 (51%)
Cool,calm and effective
Very efficient and inexpensive
3-4 Star Reviews: 14 (13%)
2-3 Star Reviews: 13 (13%)
1-2 Star Reviews: 29 (28%)
Not my old provider, Ouch.
My previous gas company with whom I was really satisfied with, was no longer interested in keeping my business so I switched to Scana. I asked a lot of questions and felt good about the move, that rates were similar and customer service would be equivalent. Immediately, I became aware that I was being charged just under $4 to pay my bill over the phone, so I opted to go to Kroger each month and pay $1.50 in order to pay my bill. My previous gas company (of 8 years) used to call me in advance of renewal and make sure I locked in my rate and we would just roll right into the next year. This was an exceptional way of doing business and it just didn't occur to me that wouldn't be the case with my new provider. Didn't think to ask that question before switching.

After my first year with Scana, I missed my renewal letter and when I called to check on rates and lock in, I found out I was being charge inhumane rates which automatically switched over from fixed, to variable when I did not reach out to Scana to lock in- Even the customer service agent, when she told me what I was paying, choked on her words. I explained how my former provider used to handle renewals, and she said, 'we only call long term customers' to be sure they lock in their rates. My bill (winter months) was exorbitant. My entire experience with Scana was one about money and ways that they could just keep charging and gouging me. The insane extra amounts of what I paid to Scana due to lack of customer service or willingness to make right would have certain impacted my quality of life during covid, or anytime.

I found a new service provider and have been treated well. Information has been consistent and I do not have to pay money to pay my bill. They too call to make sure their customers lock in their annual rates and, it is prominently recorded on my calendar too. I'm still a bit sick at the length of time this was happening before I realized, the old way of 8 years with my previous company wasn't the way with Scana operated and that they were more than happy that I was blind to my situation. I'm sad about the poor business practices. I called several times before I switched and they offered a small token to keep me on board, but it was a crass and disrespectful offering compared to the new rate and customer relationship that I have already established with my new provider.

Customer loyalty has to begin to matter at some point.
SCANA Energy News
Best Variable Natural Gas Plans In Georgia
Natural gas prices have hit their lowest average price. But it won't last! Now is the best time to take advantage of a variable rate plan — especially if you're shopping for a cheap fixed rate plan! Find Cheap No-Contract Natural Gas In Georgia Need flexibility? Looking for a short-term natural...
No Contract Natural Gas Rates in Atlanta
Sometimes it's the right time not to make a commitment. Get a variable rate natural gas plan in April while you stalk the lowest price fixed rate plans. Find A Contract-Free Natural Gas Plan In Atlanta, GA You don't have to sign up for a fixed-term contract to save money on natural gas. Althou...
Best Loved Natural Gas Rates in Metro Atlanta
Seeking the light of your life to help you save money? Fall in love on Valentine's Day with the sweetest deals on natural gas in Georgia! Natural Gas Plans To Fall In Love With This Valentine's Day Valentine's Day is the perfect time of year to fall in love with the cheapest natural gas pri...
SCANA Energy FAQs
What is the cheapest plan that SCANA Energy has?
---
The cheapest plan SCANA Energy has is Introductory Variable Rate, with rates starting at $0.289. This is a 1 month plan. You can find details for that plan here.
Where can I order SCANA Energy electricity?
---
SCANA Energy does not have any electricity plans
Where can I order SCANA Energy natural gas?
---
SCANA Energy has natural gas plans in Georgia
What do customers think about SCANA Energy?
---
That depends on who you ask. There will always be someone who feels wronged by a company, no matter how good they actually are. The average SCANA Energy customer review is 3.2 / 5 stars. Keep in mind, consumers will go out of their way to complain far more often than they will to give praise.
Recommended Natural Gas Plans
All Natural Gas Plans
12 months
$0.529 per Therm

Month-to-Month
$0.289 per Therm
24 months
$0.529 per Therm
36 months
$0.499 per Therm