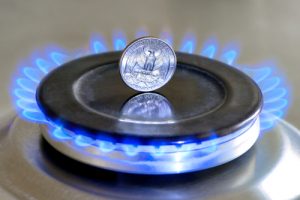 Find A Low-Cost Natural Gas Deal In Atlanta
Atlanta residents can get some of the cheapest deals on natural gas in Georgia. Whether you're looking for a fixed-rate plan or a variable rate, there are plenty of options to choose from. With natural gas prices beginning a predicted gradual rise, we're recommending several natural gas plans for Atlanta that still include the best rates around. Let's take a look at these cheap prices on natural gas and find the best deal for you.
Save Money On Your Natural Gas Deals
Let's start with the lowest price per therm. At $0.399 per therm, the Infinite Energy 12 Month plan is the market leader here. Using data from the Georgia Public Services Commission (PSC), we can expect a typical Georgia household to burn around 700 therms per year. This means you'll pay around $280 per year for natural gas on the Infinite Energy plan, before factoring in other costs like Atlanta Gas & Light (AGL) base charges and service fees.
Another cheap deal on natural gas comes from the Constellation 12 Month Metro Home deal. Though only a marginally higher costing plan, at $0.409 per therm, that extra penny adds about $7 to your annual bill for an average household. However, keep in mind that Constellation charges $7.95 per month in service fees while Infinite Energy's service fees are $5.95. That adds up to a $24 savings with Infinite Energy over the course of a 12-month contract. So, Constellation ends up the more costly deal for most households.
Great Deals With Bill Credit
Georgia Natural Gas offers a great deal for households in Atlanta. With the Georgia Natural Gas 12 Month Fixed With $90 Bill Credit plan, customers get a significant discount on their natural gas spending. At a price-per-therm of $0.519, the standard cost for natural gas is higher than with the other providers. A typical household might spend something like $360 on natural gas alone with this plan. However, the $90 bill credit reduces this to $270, making the Georgia Natural Gas plan very competitive. This is particularly true for customers that use less gas. If you're looking for a cheap natural gas deal for your apartment, this could be a great choice.
Cheap Introductory Natural Gas Rates
The cheapest price for natural gas around comes from the SCANA Energy Introductory Variable Rate plan. This has a rock-bottom rate of just $0.289 per therm. However, it is only available for a single month, after which point customers are enrolled on the standard variable rate. The standard variable rate for SCANA Energy is typically much higher, and can end up costing consumers a lot more. For some customers this can be a good short term option, but it's important to understand how variable rates work before signing up.
Finding The Lowest Price On Natural Gas
Atlanta households have plenty of great options to choose from. The plan which is best for you will depend on your personal situation. A house with low natural gas usage may be best off with the Georgia Natural Gas deal. However, Atlanta features many larger, older homes, and these may require a lot of natural gas. In these cases, the low price per therm of the Infinite Energy or Constellation plan might be cheaper. 
Once you know which plan is right for you, then Georgia Gas Savings will be there to help you switch. It couldn't be easier to switch natural gas providers, and you can start saving in just a few minutes. Why not take a look at our app for iOS and Android devices, so you can always keep up with the best deals on natural gas in Georgia: 
https://www.georgiagassavings.com/apps/ga