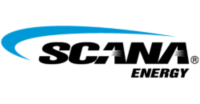 Introductory Variable Rate
Plan Type:
Intro Rate
Term Length:
1 months
Early Termination Fee:
$0.00
Monthly Recurring Charge:
$5.95
Available to new residential accounts
No contract is required
This is an introductory rate. The introductory rate will be in effect through the first full billing cycle, regardless of consumption. Thereafter, you will be on the SCANA Variable rate plan.
There is a $5.95 monthly customer service charge

Introductory Variable Rate rates through time
About SCANA Energy
SCANA Energy began serving residential and commercial customers in 1997. They are a subsidiary of SCANA Corporation, a trusted source of energy in the Southeast for more than 160 years. SCANA Energy serves more than 475,000 households and businesses across Georgia. SCANA routinely has some of the lowest
Natural Gas Rates in Atlanta
. We rate them as a "Market Leader" in their pricing. They tend to match or beat the market average price by 10%-20%.