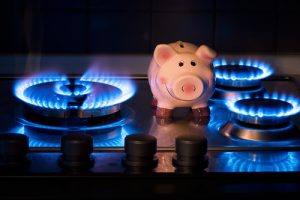 How Can I Shop the Best Augusta Gas Plan?
With temperatures dropping, the race is on to find the cheapest gas plan to get you through winter. But with so many variables, how can you be sure you're really landing the cheapest deal? Well, savvy shoppers will already know that "cheap" isn't limited to price alone! So to help you work out your best bets, we're going to compare the three cheapest plans in the  Atlanta Gas Light (AGL) service area. They're all cheap – but for remarkably different reasons. We'll show you why. 
Comparing the Best Gas Plans in Augusta 
Considering rates alone, the cheapest two plans come from Gas South and Scana. Gas South's Acquisition Variable clocks in at 39 cents per therm, with a $6.95 to $9.95 monthly charge and no early termination fee. Scana's Introductory Variable Rate is similarly priced, with a 39.9 cents per therm rate, a $5.95 monthly charge, and again no penalty for early termination.
We've lumped these two plans together because they both illustrate the same important point. Namely, that the cheapest rate available is usually an intro rate. And watch out, these rates come with strings attached! That's because 'intro rates' are usually one-off giveaways. Providers will usually roll you onto their variable rate plan once the month is up.
Now, this isn't always a bad thing. Intro rates can be useful aces to have up your sleeve. For example, they make for a fantastically cheap stop-gap solution for customers who are between plans. But handle them with care. That's because the variable rate you'll be put on is often eye-wateringly steep. In the case of Gas South, for example, it's currently $1.69 per therm! Any longer than one month on these plans, and they'll swiftly become the priciest option on the market.
Cheapest Augusta Gas Plans for Long Term Customers
In contrast, let's look at the third cheapest Augusta energy plan: XOOM Energy's SureLock 12. It's a useful example. Because, sure, the rate is a shade pricier at 49.9 cents per therm rate. But it'll be the cheaper option for longer-term customers. Here's why. 
XOOM's 49.9 cents per therm rate is fixed for 12 months. This means that during seasonal price hikes, when variable rates will soar, this rate will remain stable. Moreover, it'll shield you from the general upwards trend in energy rates for the 12 month term. There's the $5.85 monthly charge to factor in, plus a $100 early termination fee to consider. But, it's still substantially cheaper if you're in it for the long haul. 
Shop Cheapest Natural Gas in Augusta Now!
As you can see, there's an important difference between the three cheapest Augusta rates. Short-term customers might prefer an intro rate with Gas South or Scana. But long-term customers will find XOOM's the cheapest gas plan. So consider your priorities before you shop. And remember, no money-saving strategy is compete without taking energy saving measures in the home!
Discover who has the cheapest gas plan in Augusta for you at www.georgiagassavings.com. And shop it now, so you can wrap up warm and enjoy the season.