Infinite Energy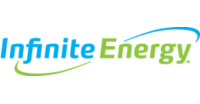 Although Infinite Energy no longer services customers in GA, this page and description is retained for archival purposes

Infinite Energy was purchsed by Gas South in the first part of 2021. At Gas South, our low rates aren't the only reason why we're one of Georgia's leading natural gas providers. As a Georgia-based company and wholly-owned subsidiary of Cobb Electric Membership Cooperation (Cobb EMC), we're proud to be a different kind of natural gas provider serving more than 3000,000 households and businesses across the state. We believe that what's most important are people. That's why we ensure low rates for everyone, never charge a deposit, and provide amazing customer service. It's also why we ensure that our success directly benefits our community by giving back 5% of our profits to help children in need. We approach every day knowing we have an opportunity to improve people's lives. And by putting people first, we believe that we can make a difference and be a fuel for good.
By choosing Gas South as your natural gas provider, you can count on:
Low rates for everyone
No deposit (keeps $150 in your pocket)
Amazing customer service
5% of our profits donated to children in need
Simple enrollment and convenient billing options
Our rating criteria
All Providers Ranked From High To Low
Compare Infinite Energy Natural Gas Rates
Compare Infinite Energy Rates
Infinite Energy Natural Gas Prices & Rate Plans
Shopping for a new natural gas plan should be an easy and straightforward process. That isn't always the case, but Infinite Energy does a great job of making things easy. The plans are relatively simple to understand and they come with many different term options to match what a customer is looking for in regards to convenience and stability.
Fixed Natural Gas Rates Just what the name says, Fixed Natural Gas Rates are simply plans where the rate doesn't change over the term of the contract. Infinite Energy offers many different term plans, from 6 to 36 months, meaning customers can count on stability and predictable monthly bills for months or years, depending on their preferences. However, early cancellation fees for breaking a contract will apply.
Variable Rates Don't want to lock in your natural gas plan for months or years? Variable plans from Infinite Energy are just what the doctor ordered! While the rates on these contracts can change from month to month depending on the price of natural gas, they don't have any termination fees and allow customers the flexibility to move or shop for new rates and get better deals without penalty.
*Rates are subject to credit approval and a $5.95 or $9.95 customer service fee may apply.
How to Start New Infinite Energy Natural Gas Service
Starting Infinite Energy service isn't difficult at all. First, you can sign up for Infinite Energy Service right here on Georiga Gas Savings. In just a few cliks, you can order natural gas service from Infinite Energy. Just select any of the plans below and clicking the Sign-Up button. But before we start, it's best to have a few things ready to be able to complete your order:
Current Natural Gas Company: If you're switching providers, the name of your current gas company will be requested.
Service Address: The address where you want natural gas service turned on or switched.
Personal Information: You will need your name, phone number, email address, and your Social Security Number. These will be required.
Unfrozen Credit: If you have frozen your credit with any of the major credit agencies, you will need to have it temporarily unfrozen. A soft credit check is required by all natural gas companies to determine if a deposit is required.
Got all that? Then you're ready to select from one of the below plans and get started!
Long Term Plan
12 Month Home Natural Gas Plan
$0.59 per therm
$7.95 MRC
The 'MRC' or 'Monthly Recurring Charge' is a fee that the provider will add to each of your bills in addition to the gas usage charges.

Low Rate!
$0.59 per therm
$6.95 to $9.95
MRC
The 'MRC' or 'Monthly Recurring Charge' is a fee that the provider will add to each of your bills in addition to the gas usage charges.

Popular Provider
$0.63 per therm
$5.99 to $8.99
MRC
The 'MRC' or 'Monthly Recurring Charge' is a fee that the provider will add to each of your bills in addition to the gas usage charges.

Understanding Your Infinite Energy Bill
Although Infinite Energy no longer services customers in GA, this bill image and description is retained for archival purposes.
A natural gas bill has a LOT of different line items that can be confusing to customers. Here is where we break down the most important items. Below is a sample Infinite Energy natural gas bill.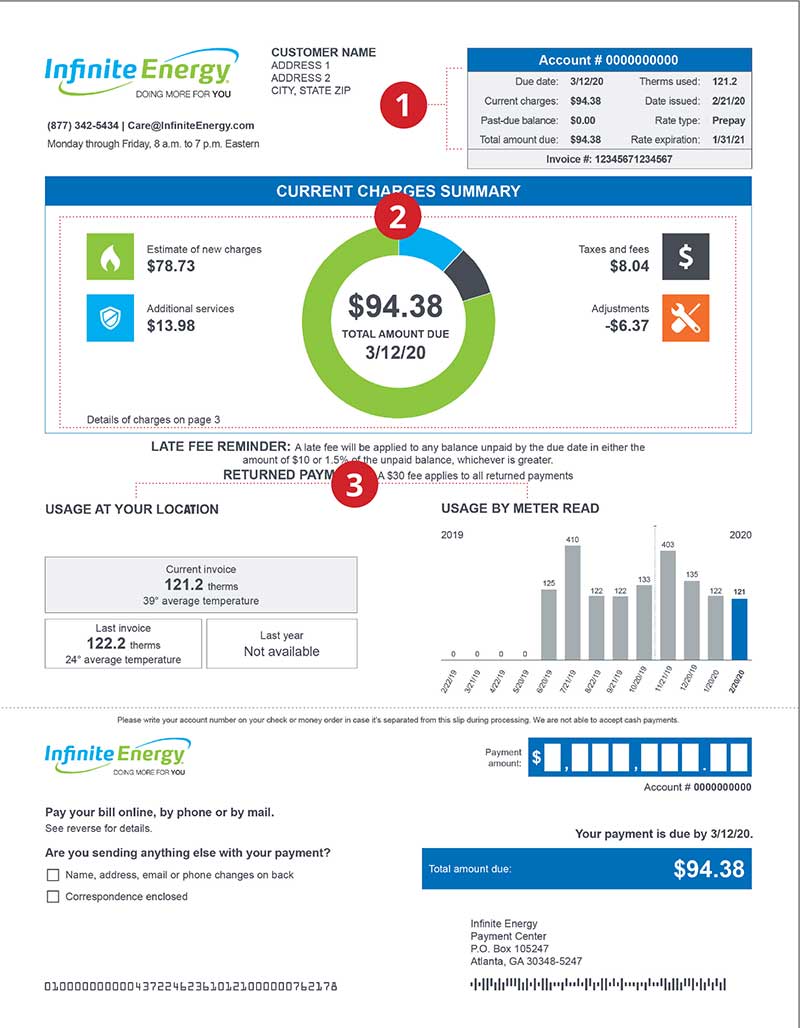 Bill Overview: Includes an invoice snapshot, your personal account number with Infinite Energy, usage amount and other charges
Summary of Current Charges: A more in depth breakdown of your current charges, broken out by categories.
Usage Information: A historical look at your usage per bill to allow you to compare usage over time and see trends.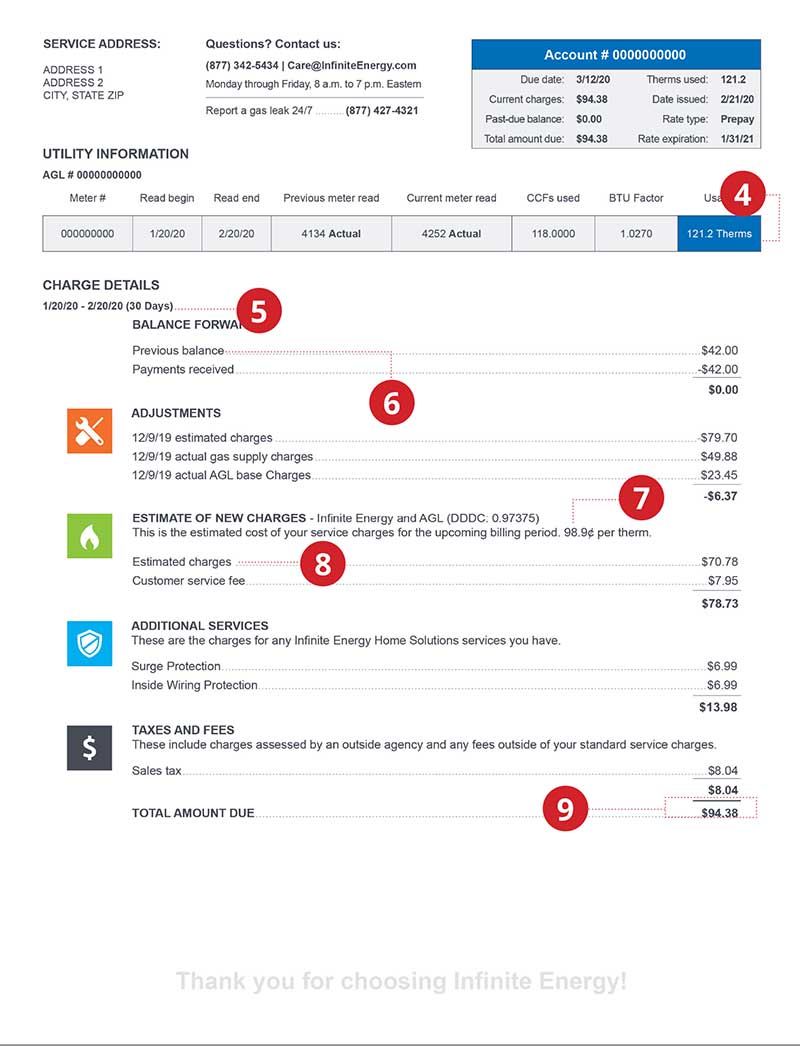 4. Current Usage: The amount you've used (in therms) for this most recent billing period.
5. Service Period: The amount of days covered on the invoice, including start and end dates. In other words, your billing period.
6. Oustanding Balance: A snapshot of your account balance with Infinte Energy.
7. Current Therm Rage: Your rate per therm for this particular invoice.
8. Estimated Charges: This includes an estimated total of charges such as meter reading, base charge, AGL maintainence, and more.
9. Total Amount Due: Total Amount owed infinite, including any previous balances, current charges, credits, etc.

Infinite Energy Smart Home Plans

Infinite Energy offers the below opportunties for customers to get a free smart home product.
Provider

Term of Plan

Product

Infinite Energy

60 Months

Google Home Hub

Infinite Energy

12 Months

Nest Camera

Infinite Energy

12 Months

Nest Door Lock

Infinite Energy

12 Months

Nest Hello Doorbell

Infinite Energy

12 Months

Nest Thermostat

Rates are subject to credit approval. Service fees from $5.95 to $9.95 may apply.

Infinite Energy Reviews
Infinite Energy is a Top Ranked provider as ranked by GeorgiaGasSavings.com. They've also received a JD Power score of 645 in 2013 (the last year of JD Power Ratings in Georgia). Infinite Energy has an A+ rating with the BBB, and consistently ranks amongst the lowest complaints received with the Georgia PSC.

| | | | |
| --- | --- | --- | --- |
| Provider | 2019 GeorgiaGasSavings Ratings | 2013 JD Power Ratings | 2019 Better Business Bureau |
| Infinite Energy | 3.520 | 645 | A+ |
Infinite Energy Coupons, Energy Promotions, Discounts, Rebates and Promo Codes
Infinite Energy has very few options and discounts available to save some money, and those mostly revolve around value add products like Nest Thermostats or Google Home Hubs. These are deals any person looking to upgrade their home with new smart technology should explore. Infinite Energy also may run occasional discounts or promotions for other categories of customers. Infinite Energy does not appear to be offering any special promo codes or rebates at this time.
How do I get the Cheapest Infinite Energy Rate?
We've created a step by step guide to help you get the cheapest natural gas rate in Georgia.
There are three basic steps
Gas Problem? Heres who you contact:
Having some kind of problem with your Infinite Energy natural gas? Here's the proper people to call:
Unpaid Bill? - You want to contact Infinite Energy. Call Customer Service at 877.529.9908 or visit My.InfiniteEnergy.com
Smell Gas or have a leak? - You want to contact AGL immediately. Call 877.427.4321 or email G2aglcustomercare@southernco.com
Is there an Outage in your area? - You want to contact AGL customer service at 800.427.5463 or email G2aglcustomercare@southernco.com
Compare Georgia Gas Rates
Georgia Gas Providers
Zip Codes with the Cheapest Natural Gas Rates in Georgia