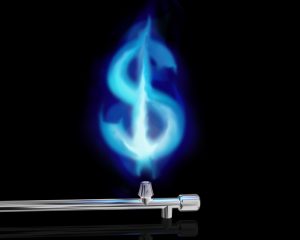 Where Can I Find Best Natural Gas Prices?
With Covid piling pressure onto the already frustrated Atlanta customers, the last thing you need is confusing, expensive household energy bills. But working from home is driving up your energy usual consumption. You want to lock in a cheap 12 month plan but you also know winter's a difficult time to switch contracts. So where do you go to compare great gas plans? Here, of course!
Gas South Rates
First off, Gas South's Fixed 12 Month charges $0.510 per therm, a $6.95-$9.95 monthly charge, and $150 for early termination. Sure, you'll get $50 in bill credits, but price-wise it's not that great.
Nor is its BridgePlan 12 Month particularly competitive. It mainly shares the above charges, besides the costlier $1.130 per therm rate. However, it is designed to help customers with shaky credit scores. So if that's you, this plan is definitely worth taking a look.
Infinite Energy Rates
The Infinite Energy's 12 mo Fixed plan is slightly cheaper, at $0.479 per therm and the $5.95 monthly charge is cheaper, too. But note the early termination fee costs you $150 if you decide to leave this plan early. 
Georgia Natural Gas Rates
Next, our customers' highest rated supplier: Georgia Natural Gas. Sure, their 12-Month Fixed with $100 Bill Credit plan isn't the cheapest, at $0.469 per therm. But the monthly charge could be just $5.99, and the early termination runs between $50 and $100. You'll also get $100 in bill credits plus up to $150 to cover the cost of switching from another supplier.
In addition, their Guaranteed Bill plan (here's a quick explainer) is attractive, too. It offers a fixed energy bill amount across all 12 months and for some, that's peace of mind. We plugged in an average sized 1,914 sq ft Atlanta home and the energy bill amount came out to $77.20.
Unfortunately, it isn't the best on price per therm. The Georgia Public Service Commission  puts average household therm consumption at 717 annually. So, this is the approximate dollar-per-therm price you're looking at:
717 ÷ 12 months = approx. 60 therms used per month
$77.20 ÷ 60 therms = approx. $1.30 per therm
When you compare this rate with the other great gas plans… seems pricey. But, remember, it doesn't factor in the money you'll save without paying a monthly charge. Or the energy you'll save not stressing over bills.
Constellation Rates
Lastly, Constellation's 12 Month Home Natural Gas Plan offers $0.425 per therm, a $7.95 monthly recurring charge, and a $150 early termination fee. Although both the monthly charge and termination fee are relatively pricey, it's the cheapest therm rate money can buy. Constellation plans also come with a 90 day satisfaction guarantee!
Also, compare Constellation's convenient home services great gas plans below – all share the same rate per therm.
Shop And Compare Great Gas Plan Rates
In conclusion: my top choice is Constellation 12 Month Standard: Water Heater Protection. It's a steal, with free heater protection and an unbeatable low rate. Then, in close second, is the Georgia Natural Gas 12 Month Fixed with $100 Bill Credit, because its competitive rates and attractive credits align with a great history of customer reviews.
It's never been easier to compare great gas plans! So head to https://www.georgiagassavings.com to lock in one of these deals.