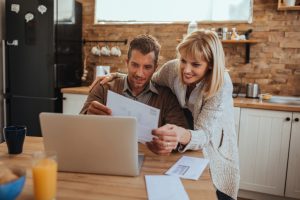 Find the Best Natural Gas Plan for Me
It's a brand new year, but a lot of last year's problems are still hanging around. The precarious Covid economy continues. Winter energy rates are still high. And the spending dust is still settling from the holiday season. Maybe things are feeling too unsteady – or too stressful – to commit to a long-term natural gas plan right now.
Well, we've got good news for Macon natural gas customers! There's plenty of great value choices that'll help you to lock in the best short term gas plan for you. Let's take a look. 
Shop Best Month-to-Month Gas Plans
Month-to-month plans for Macon customers operate on a variable rate – so the price you're paying per therm can change each month. This is risky, because whilst the National Weather Service is predicting a warmer than average winter this year, it's still possible we'll get surprise weather events. Variable rates don't insulate you from sudden price spikes, and they're likely to work out more expensive in the long term.
However, month-to-month plans provide unrivaled flexibility. And some providers offer plunging discounts on their introductory plans. So if you're looking for a short, sweet stopgap, a month-to-month plan could be an easy money-saver.
The BridgePlan Variable from Gas South comes with a $1.470/therm rate, and a monthly recurring charge of up to $9.95. This makes it the priciest of the month-to-month plans. And, should you want to switch, you'll need to shell out a steep $150. Whilst the Standard Variable Plan from Infinite Energy carries no such early termination fee, its $1.389/therm rate is still comparably costly. 
Instead, consider the SCANA Introductory Variable Rate. This offers an unrivaled discount rate of $0.289/therm for the first month. The price of course rises steeply after this intro period – but if you switch in time, it's a great one-month quick-fix.
Shop Fixed Rate Gas Plans
The other option for Macon customers is a fixed rate plan. Fixed rates allow you to lock in a consistent dollar per therm rate over several months. You'll shore yourself up against unexpected and costly price spikes and billing surprises. And, here's the cherry on top – some of these work out even cheaper than the month-to-month plans!
Firstly, the Market Intro Plan from Georgia Natural Gas. It's a two month fixed plan, at a remarkable discounted rate of $0.299/therm.  Note that this is as money-saving as the SCANA Introductory Variable Rate, but you get it for twice as long! Watch out though, because the rate hikes again after the two month term.
The Fixed Six Month from Gas South at $0.590/therm is a moderately priced plan, requiring no deposit. The Six Mo Fixed plan from Infinite Energy is slightly cheaper, at $0.479/therm. But these plans share a $150 early termination fee – so watch out if you're looking for flexibility. 
Best of the bunch is the 6 Month Fixed from Georgia Natural Gas. At a discounted $0.449/therm, it's the cheapest non-introductory plan but sign up by February 2nd to lock it in! Plus, they'll credit you up to $150 for exit fees from your current plan. And its exit fee, in turn, is a relative bargain at $50. So it helps you stay flexible, whilst enjoying reliably low therm rates and the security of a fixed plan.
Where to Lock in Best Gas Rates
It couldn't be easier for Macon customers to lock in a great value short term gas plan for the winter months ahead and longer. Head to https://www.georgiagassavings.com to get started on saving money now!