Who Has the Cheapest Gas Deals Near Me?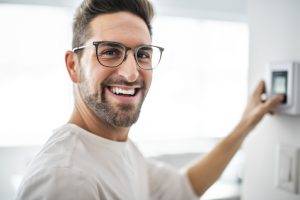 The holiday season is here, folks! But that doesn't mean you can take your eye off natural gas rates. Sure, temperatures might seem mild right now. But if last year's Texas crisis taught us anything, it's that you need to prepare, prepare, prepare for costly cold snaps! A cheap gas deal providing 12 – 18 months of cover is a great solution for Atlanta Gas Light (AGL) customers. And, because longer terms mean lower rates, they might just save you a bundle. So, let's look at the four best, cheap gas deals on offer.
Compare Lowest Natural Gas Prices Near Me
First off, let's consider the Fixed 12 Month plan from Gas South. The 69 cents per therm rate ain't expensive, but it ain't exactly cheap either. The $6.95-$9.95 monthly recurring charge could get pricey too. And sure, you could earn up to $20 in bill credits – but you could make this back (and then some!) over 12 months by landing a cheaper rate. So let's move on!
The 12 Month Home Natural Gas plan from Constellation is, honestly, much the same. The 12 month rate is a couple of cents cheaper at 67.9 cents per therm, which will make you moderate savings over time. But the monthly recurring charge is $7.95, which isn't much of an improvement.
Now we get to the good stuff. Georgia Natural Gas® offers two money-saving cheap gas deals in Richmond Hill. However, bear in mind that both are only available to new customers. Their 12-Month Fixed Plan offers an identical 67.9 cents per therm rate as above, and a $5.99 – $8.99 monthly charge. However, Georgia Natural Gas® will cover up to $150 in exit fees if you're jumping off a different gas deal to join them. Plus, you'll get Greener Life ® for free all year – a service where Georgia Natural Gas® retires carbon offsets to compensate for your natural gas usage. 
Sounds good? Well, then consider the other Georgia Natural Gas® deal: the 18-Month Fixed Plan. The rate is a little cheaper at 65.9 cents per therm, which will offset the monthly charge being a buck pricier at $6.99 – $9.99. Besides that, you'll again get the credited exit fees, and a free year of Greener Life. The only thing to bear in mind is the exit fee. It starts at $150, and Georgia Natural Gas® knocks off $50 for every 6 months you're on the plan. Unfortunately, this means if you're planning to shop gas rates in March, you'll be shelling out $150 to switch.
Lock In Cheap Gas Deals Now!
In summary, the Georgia Natural Gas® 18-Month Fixed Plan is a dependable, long-term solution to protect both your family and your funds in the months ahead. But a cheap gas deal is only half the story. Remember that if your home is weatherized and insulated, you won't even need to use as much gas! So alongside spending some time tweaking your home, compare cheap gas deals in Richmond Hill (and shop them now!) at www.georgiagassavings.com!