Give the Gift of Smart Home Gadgets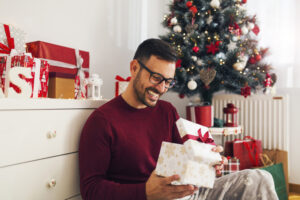 One of the best parts of the holiday season is finding perfect gifts for special people in your life. If you're shopping for gadget geeks then smart home gifts are the way to go. Not only will you impress with the tech, but you could also help friends and family save money on their natural gas bill in Georgia! Check out our picks for best smart home gifts for the holidays.
Smart Gifts to Impress Tech Lovers
Lock For anyone who has ever locked themselves out of their home. Smart locks are available in a variety of forms from keypads to biometrics to sensors that automatically unlock on approach. This year tech enthusiasts are excited about the August Wi-Fi smart lock that simply upgrades your existing deadbolt with no need for new keys.
Smart Plugs Turn any device into a smart gadget with smart plugs and smart power strips. Smart plug-in extensions allow you to add features like voice control and scheduling to coffee makers, TVs, lights, and more. They are also easy to use and convenient, so they make a great gift for anyone, not just tech geniuses!
Thermostat Perhaps the ultimate smart gadget for the tech lover who also wants to conserve natural gas and save money. Smart thermostats check all the boxes for best gadget gift: voice control, automation, attractive, remote controlled, easy-to-use, and more. But best of all is the smart thermostat can save you 10-12% on your heating bill by optimizing your HVAC settings. So, check out ecobee and Google Nest for bestsellers.
Smart Gifts to Entertain Everyone
Lighting Smart lighting gifts boast major versatility for givers. Go simple with a single LED Wi-Fi bulb or go for the total package with a home smart lighting kit. Smart bulbs are fun and easy to use for added color and function in a kid's bedroom or frequently used light. Smart lighting kits are a bit more of a project, but still simple to install while reducing your energy bill by replacing lightbulbs with LEDs and adding smart features like motion sensors and remote control.
Speaker A fun addition to a home with music lovers! Smart speakers can turn any moment into an instant dance party with voice control and amazing sound. Kids and adults alike will also enjoy asking questions and getting a response from Google or Amazon's Alexa. Other features include dictating shopping lists, making voice calls, and using an intercom with other smart speakers.
Gift Smarter Not Harder
Relax and enjoy your holiday season now that you've found perfect gifts for the gadget lovers on your list. Our picks for smart household gifts will put smiles on every face at your celebration. And don't forget to give yourself the gift of energy savings! Compare gas prices and lower your energy bill at https://www.georgiagassavings.com/.