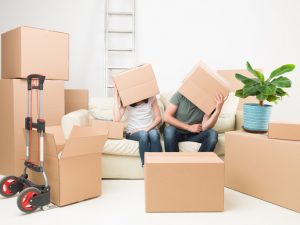 How can I Move House Stress-Free?
Springtime is moving season, and many GA residents have decided to take the plunge. But moving's a real stress at the best of times. And ongoing Covid restrictions sure aren't helping. We know there's no sure-fire way to avoid hiccups whether you're moving to your first apartment or your first home, but there are some strategies that can keep them at bay. That's why we've compiled these 7 essential tips for moving house with half the hassle.
Top Moving Tips for Georgia Homeowners
Pack purposefully. Label all boxes with their contents and intended room destination – or, to keep it discreet, number your boxes and keep a separate inventory.
Keep a box with 'first night' essentials, so you don't have to go digging around for towels and bed-linen when you're exhausted from a day hauling cargo.
Rolling clothes saves more space than folding, and keeps creasing to a minimum! And remember, scarves and socks are a great solution for protecting fragile items, whilst saving on bubble-wrap.
Get everyone involved! Whether that's asking your kids to create some fresh fridge-art for the new kitchen, or taking shifts manning the yard sale, this'll help your loved ones feel a part of the journey.
Sort your energy plans! Work out your energy requirements, and research your zipcode's available plans in advance. Check when your current contract ends, and set aside money for an exit fee if you'll incur one. Be sure to set up your natural gas plans before you move. It's a lot, but you can find all the info and support you need on www.georgiagassavings.com!
Consider setting up a mail forwarding plan with the USPS so you don't miss any important letters. Allow a couple of weeks for this to get up and running.
Set up a treat for the gang once you've emptied the van! Find a nice neighborhood bar or park if you'll want some fresh air, or just get takeout and a bottle of wine for a hard-earned night-in.
Our Biggest Moving Tip – Shop Natural Gas Rates!
If there's one thing you can gift yourself in advance, it's a well-researched natural gas plan that'll keep your loved ones provided for from the get-go. And the more you prepare, the more you'll save! Head to www.georgiagassavings.com for all the support and information you need to get hooked up to a great money-saving deal. And if you cover these 7 essential hassle free tips for moving house, you'll be a whole lot closer to enjoying that well-deserved new home. Best of luck!