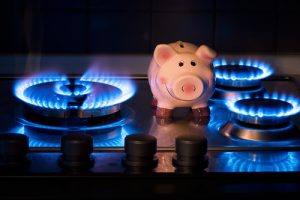 Find Georgia's Best Natural Gas Providers Cheapest Deals
When you sign up for a fixed rate natural gas plan you need to know you'll be treated well. That's why we at Georgia Gas Savings release annual rankings of natural gas companies in your area. Of course, you still want to find the cheapest deals on GA natural gas. These low-cost natural gas deals near you all come from top-rated providers. You can sign up, safe in the knowledge that you're getting top-quality service at a great price.
Best Rated Natural Gas Plans In Georgia
Georgia Gas Savings ranks natural gas providers in Georgia according to market data and third-party information. By combining this with real customer reviews, we provide an in-depth picture of how well each provider treats its customers in terms of sales and service. Each company is given a score out of 5. Check out our natural gas provider reviews in GA to see how each company performs.
SCANA Energy is our highest-ranked provider, scoring an impressive 4.8 out of 5. The cheapest deal they offer is the SCANA Energy 12 Month Fixed Rate deal, which comes with a low rate of just $0.398 per therm. That's one of the best rates on the market, although it only locks your rate for a year. You'll pay $6.95 per month in service fees.
Constellation Energy is our next-highest ranked natural gas provider. If you're looking for cheap natural gas in Georgia, this provider has the best deals. The Constellation 24 Month Metro Home plan offers a market-leading rate of $0.349. Although you'll pay $7.95 per month in service fees, this deal is a great way to lock in a low rate for 2 years.
Great Deals On Best Rated Natural Gas Georgia
Another natural gas provider that offers great customer service is Infinite Energy. This provider offers cheap natural gas in the Atlanta Gas & Light service area. Check out the Infinite Energy 12 Month Fixed plan, which costs just $0.399 per therm. That's very competitive, and Infinite Energy also offers a cheap service fee of only $5.95 monthly.
At number 4 on our list is XOOM Energy. Offering great customer service and a cheap natural gas rate, this provider has very competitive options. The XOOM Energy SureLock 12 plan gives you a year of reliable rates as well as great customer service – each therm costs just $0.399. Service fees are also low, coming in at just $5.85 monthly. 
Finally, Georgia customers can sign up with Just Energy. This natural gas provider offers their Rate Shield 24 Natural Gas Plan to Georgia customers, which has a cost per therm of $0.880. Customers will also pay $5.95 per month as a service fee. It's worth bearing in mind that this plan has an early termination fee of just $75 – many other providers charge $150.
Sign Up For Cheap Natural Gas Today
Combine a cheap rate for natural gas with excellent customer service. There's no need to compromise! The best way to switch natural gas provider is with Georgia Gas Savings. We're here to make it as easy as possible. You can even switch and save directly from your mobile device. Just download the Georgia Gas Savings app today to start saving money: https://www.georgiagassavings.com/apps/ga