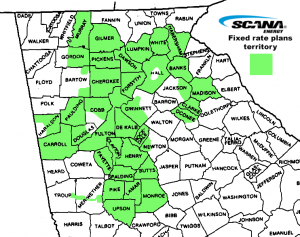 About SCANA Energy Fixed Rate Gas Plans
If you're looking for the cheapest natural gas in Georgia, then you'll want to explore all your options. But if you live outside the Atlanta metro area, finding all the best natural gas rates may seem frustrating. One reason is because one of the biggest natural gas providers in Georgia, SCANA Energy, only provides fixed natural gas plans within the Atlanta Metro Area. That means if you live in towns such as Macon or Augusta you won't be able to sign up for their fixed rate plans but they do offer a month-to-month plan. If you live in the Atlanta Metro Area, explore the cheap natural gas deals they offer.
Do I Live In The Atlanta Metro Area?
The Atlanta Metro Area has nearly 6 million inhabitants. It spreads over more than 8,300 square miles of territory. This means that you can still access SCANA Energy natural gas deals outside Atlanta city limits. Towns like Smyrna, Alpharetta, Marietta, Roswell, Decatur and Acworth are all within the Atlanta Metro Area. This means residents are eligible to sign up for fixed rates in the SCANA Energy service territory.
Is SCANA Energy A Georgia Business?
SCANA Energy has been a part of energy distribution since 1846, when it began life as the Charleston Gas Light Company. Today, SCANA Energy is based in Atlanta, but it's part of a much larger corporation that extends throughout the south-eastern United States.  Yet, although SCANA Energy is part of a much larger entity, it limits its fixed plans to its service territory in the Atlanta metro area. 
Of course, this is good news for Atlanta natural gas consumers as it allows them to benefit from cheaper natural gas deals and better rates than they might otherwise get. Let's take a look at some of the natural gas deals on offer.
Lowest SCANA Energy Fixed Rate Deals
SCANA Energy offers three natural gas deals to suit any household. That's a reasonable rate, and a particularly competitive price for the SCANA Energy 6 month fixed rate deal. For the 6 and 12 month versions of SCANA Energy plans you'll pay $6.95 per month in service fees, and if you terminate the plan early you'll be charged $150. A popular choice is the SCANA Energy 12 Month Fixed Rate plan, which offers a reliable price for natural gas all year long. The SCANA Energy 18 Month Fixed Rate also shares the same low price but customers get to lock in this rate for a full year and one half. However, its early cancellation fee costs more, $200.
Are these deals the cheapest natural gas plans around, though? Not necessarily. In Marietta, for instance, you can find cheap natural gas deals with rates as low as $0.339, which would save you $0.11 per therm. That counts for a lot over the course of a year or more, when an average household can consume 700 therms. However, low prices aren't the only reason to choose a natural gas provider. You should make sure to check out our reviews of SCANA Energy to see how well-trusted they are by Atlanta Metro Area residents.
Is SCANA Energy The Right Provider For You?
Atlanta Metro Area residents could certainly save money by switching to SCANA Energy. The wide range of high-quality plans means you're never short of options. Our choice is the SCANA Energy 6 Month Energy Deal. It gives you a competitive rate with one of the best-rated natural gas suppliers around. Switching to this plan is fast and easy. Just download the Georgia Gas Savings app for your device today: https://www.georgiagassavings.com/apps/ga