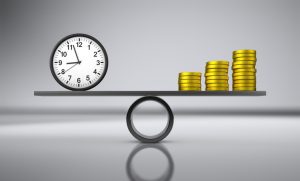 How Can I Lock In Great Short Term Rates?
Natural gas prices usually dip during the "shoulder month" period in mid-fall.  So savvy Atlanta Gas Light (AGL) customers know that's the time to lock in their long-term gas rate. But what about now? Can you still land great short term gas rates in summer? Or are you forced to take up a month-to-month variable rate to plug the gap?
Absolutely not! Remember, your plans don't have to match up exactly with the months you need covered. You can still land great short term Augusta natural gas rates in the meantime. You just have to get creative. So, let's create the right short term strategy for you to get fixed until fall!
Compare Gas Rates — The Risky Option
If you're up for a challenge, you could cobble together 3 months of coverage from the bargain intro rate offers available. 
Start with one month on the Acquisition Variable from Gas South . It's the cheapest rate on the market at just 29 cents per therm (although add $6.95- $9.95 for the monthly charge). Then, assuming the rate holds, jump onto the 34.9 cents per them discount rate available for two months on the Market Intro Plan from Georgia Natural Gas (GNG) – although this is only for new GNG customers. The monthly charge is $4.99 – $9.99, but importantly: there is no early termination fee. So if you find a better plan come fall, you can jump right off. 
But you'll have to be vigilant to benefit from these bargain rates. Overstaying the intro period on these plans will see you rolled onto the provider's variable rate. This can be over a dollar and a half per therm!
The Safer Bets
If you don't want all that hassle, you're in luck. You can enjoy great short term gas rates by finding a longer term plan, and simply jumping off it when fall arrives. Just make sure you find a nice low termination fee. 
To that end, a great option would be GNG's 6-Month Fixed plan. The competitively priced 55.9 cents per therm rate beats other short term plans. And the $4.99-$7.99 monthly charge is also relatively low. But here's the kicker: you can terminate this plan whenever you want for just $50! 
Alternatively, there's SureLock 12 from XOOM Energy: 39.9 cents per therm is a remarkable rate for any time of year, and the $5.85 monthly recurring charge is also reasonable. Early termination is pricier at $100 – but this is still at the low end. Moreover, if fall doesn't bring the discounts you'd hoped for, you can hang onto this great rate all year! 
How to Shop Best Augusta Natural Gas Rates
So, Augusta natural gas customers, be smart over the next few months! Playing the system by terminating plans early or stitching together short term options will land you a great gas rate in Augusta until the shoulder months arrive. And don't forget, the smartest money-saving strategy will always include reducing your household energy usage. Find out more at www.georgiagassavings.com – the best place to shop short term gas rates in Augusta!