Move-In Ready Natural Gas Rates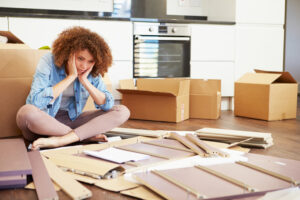 If you're moving to Atlanta this May, you're certainly not alone! Atlanta is the hot metropolitan area of the moment with affordable housing and a booming economy. In fact, according to population estimates, the 11-county region around Atlanta grew by more than 65,000 last year. But, while you're prepping and packing for the big move, don't forget to pick your new natural gas plan. And if you're brand new to the area and confused by it all, we'll help you shop natural gas rates in Atlanta.
Deregulation Means Better Natural Gas Rates
New residents to the state for the first time may not be familiar with Georgia's deregulated natural gas market. Prior to deregulation, consumers usually only had one option for a natural gas provider. Now the market hosts several competing providers. Therefore, each provider must work harder to get your business. This translates to better natural gas prices!
How to Get the Best Gas Deal
Now it's time to shop for your new natural gas plan. But how do you get the best rate? Just follow these three rules.
Term-Length: First decide on the term length you want. Plans with a 12-month fixed rate or longer are great for homeowners and extended renters. Short-term or month-to-month plans can be beneficial if you don't plan to stay long in your place. A few providers, like Gas South, are currently offering extremely low introductory rates. But keep in mind that those rates will go up after your first month.
Timing: Second, as you select your ideal term length, remember the best time to lock in a cheap natural gas rate is in the spring shoulder months, March and April, while demand is low. Some strategic planning with term length can help you save money for years!
Price: Third, choose at least three natural gas plans with low rates per therm.
Watch for Plan Details
Fees and Credits: Next, compare special offers, credits, and fees to best understand your total costs with each plan. Many providers offer enticing bill credits to beat the competition. However, providers also charge fees like early termination fees and monthly service fees. These fees add up to your monthly costs and may prevent you from switching providers early.
Plan Renewal Terms: The end of the contract doesn't always means it's over. Some providers automatically enroll customers in their variable rate plan at the end of a fixed-rate contract. This typically costs more money overall. Understand what will happen at the end of the contract and make a plan for what you'll do next. So be sure to shop new plans just before your contract runs out.  
Terms of Service: Finally, read the provider and plan documentation to be certain you aren't missing any fine print. This way, you'll get peace of mind better knowing what to expect.
Shop with Us for the Cheapest Natural Gas Rates
With our simple steps to choosing a natural gas plan in Georgia, you're sure to feel confident in your new home and save money. To make your shopping experience even easier and more satisfying, visit us at Georgia Gas Savings. You can compare all your options for natural gas plans side by side. And as a bonus we offer costumer rating systems, resources, and the ability to purchase your plan with just a few clicks. Visit us today at https://www.georgiagassavings.com.