Even Grill Masters Need Gas Grill Safety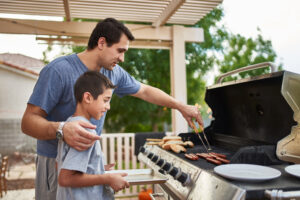 Grilling outdoors is an American summer tradition. Whether you're in the heart of Atlanta or out on the shores of the east coast, grilling is a great way to spend more time outside! We're a family that loves to soak up as much fresh air and sunshine as possible. So, when it comes to summer dinners, we use an outdoor gas grill several times a week. But, with two young and wild kids bouncing around the yard, we also have to make sure we're safe when the grill's lit. In 2020, the National Fire Protection Association reported that fire departments respond to more than 10,000 calls per year for grill related fires. To avoid being a part of this statistic, check out our top tips for outdoor gas grill safety.
Best Tips for Gas Grill Safety
Store and use the grill outside. Keep it at least 10 feet from your house and on a level surface.
Always monitor the grill while in-use and watch for the unexpected. Such as off-target balls or frisbees.
Wear clothes that aren't too loose or dangly to avoid fire hazards.
Prepare for emergencies with a fire extinguisher and water nearby.
Not all Igniters don't always light right away. Turn on the grill with the lid open. Otherwise, unlit gas could buildup and suddenly blow the lid off your grill.
Close the gas valve to grill when you're done cooking.
Don't store extra tanks near your grill or in another area with high heat exposure.
Clean the grill and the grease trap regularly.
Check for leaks at the valve or hose twice per year. To check for a valve leak, first turn off the valve and then wait to see if you smell gas. To check for a hose leak, first apply soapy water to the hose then open the valve. If there is a leak in the hose, it will produce obvious bubbles in the soapy water.
Outdoor Gas Grilling Saves Money
Now you're ready to grill safely! But before you light up the barbeque, here's one more added benefit to grilling outdoors: saving money. The natural gas in GA you use to heat a gas range or oven inside also heats up your home. When you take the cooking outside, you also reduce the demand on your air conditioning which accounts for at least 7-9% of your electric use. Additionally, if you grill outside you won't have to run your hood ventilation fan to clear out smoke and grease. All this adds up to lower electric bills this summer.
To save even more money on energy, lower your natural gas bill with a fixed rate natural gas plan. Shop and compare the best rates at https://www.georgiagassavings.com.