Short-Term Gas Plans Mean Savings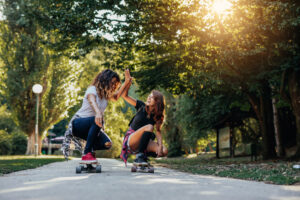 If you are a renter or planning to move soon, you might think you don't have options to save on natural gas. But it's not true! As a student, I was a renter for over three years with a few separate leases. At the time, I was looking to save money wherever I could. In my experience, a great way to lower my bills for utilities was a short-term natural gas plan. A short-term plan allows you to take advantage of a low rate without committing to a long contract. Check out my picks for best short-term gas plans in Georgia.
Top Short-Term Gas Plans in GA
For a great discounted rate, sign up for the Georgia Natural Gas® 6-Month Fixed Plan. At $0.589 per therm, your rate is a ten-cent discount available to new customers. You also get Greener Life® free for 6 months and an exit fee credit up to $200. The provider does charge a $4.99-$7.99 monthly recurring charge. Also remember that provider charges a $50 Early Termination Fee (ETF). Plus, at the end of your contract, the provider automatically enrolls you in their variable rate plan unless you switch plans.
For a solid rate open to all customers, get Gas South Fixed 6 Month. Their $0.590 per therm rate isn't just an offer for new business, but for anyone. Additionally, you get $20 in bill credits and don't need a deposit. The recurring monthly charge is $6.95-$9.95 and the ETF is $150 ETF.
For customers with poor or limited credit, you still have a great option in the Gas South Bridge Plan 6 Month. Although it's more expensive than other plans at $1.090 per therm, you only lock in the rate for six months while building your credit. Also, there is a $20 bill credit and no deposit to help keep more money in your pocket. They do charge a monthly recurring charge of $6.95-$9.95 and a $150 ETF if you leave the plan early.
Simply the Best Gas Plan in GA
For the cheapest rate, take the Georgia Natural Gas® Market Intro Plan. This plan is a steal at just $0.399 per therm for 2 months. Be aware the plan is available to new customers only and it switches you to the Variable Select Price Plan (currently $1.949 per therm) after two months. The provider also offers a $0.00 customer service charge for two months, fixed contract exit fees up to $200, and Greener Life® free for 6 months. The monthly recurring charge is $4.99-$9.99 but their ETF is $0.
This plan tops my list of best short-term options for natural gas primarily because of its rock-bottom rate. It's also great because of the ultra short-term and no early termination fee!
Lock-in a Short-Term Gas Plan Now
Even if you're only looking for a short-term plan, you can rejoice in the cheap rates available right now. Typically, rates are lowest in spring shoulder months March and April. But this year the warm winter left a lot of natural gas unused for heating. So, we've seen low gas rates carry into May. However, since El Niño could bring the hottest summer on record in 2023, more natural gas will used for power to run air conditioners. That means these rates won't last!
Shop now for a plan that gets you the best natural gas rate at https://www.georgiagassavings.com.