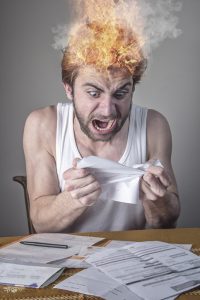 What does an Expired Atlanta Gas Plan Mean for Me?
Halloween might be long past, but there are plenty of nasty surprises still in store for the unsuspecting Atlanta Gas Light (AGL) customer! That's because, much like that rotting pumpkin on your doorstep, gas plans past their expiry date can spell real trouble. If you fail to actively renew a fixed rate plan, providers can roll you onto a pricey, unpredictable variable rate. And this winter's going to be cold enough without chillingly steep gas bills. Let's take a look at the kind of price you'll pay if your Atlanta gas plan expires…
Expired Atlanta Gas Plans: Cautionary Tales
The Atlanta Gas Plan Intro Rate
Intro rates are bargain basement, market-busting teaser prices offered for one or two months only. Scana Energy's Introductory Variable Rate is a good example of this. The 39.9 cents per therm rate is the best on the market – but it only lasts one month. Once this Atlanta gas plan expires, they'll put you on their default variable rate. This is currently an eye-watering $1.65 per therm – which is over four times pricier! Plus, as the name suggests, this variable rate will change month-to-month. So dropping the ball on intro rate plans can swiftly lead to miserably steep bills. 
The Atlanta Gas Plan Fixed Rate
In fact, rolling over onto a default variable rate is something you have to watch out for across all plans. And even if you're on a lengthy fixed rate, the same risk applies. Take Constellation's 12 Month Home Natural Gas Plan, for example. This steady 67.9 cents per therm rate will keep you ticking over for an entire year. But once it's through, Constellation can put you on their Variable Rate Plan. This month-to-month plan currently clocks in at a bone-chilling $1.19 per therm. 
The Atlanta Gas Plan Free Incentive
There's one more hidden trick you'll have to watch out for. Some plans offer bolt-on incentives, but they're not always as "free" as they seem! For example, take a look at the 24-Month Fixed with $100 Bill Credit plan from Georgia Natural Gas®. The package includes their Greener Life program. This is an optional Georgia Natural Gas® product that calculates the amount of green house gasses your natural gas usage releases into the atmosphere. Georgia Natural Gas® then purchases and retires carbon offsets to balance the impact of those emissions. Greener Life comes free with the plan for 12 months, even though the plan itself lasts 24. While that's eco-friendly, it means that after the initial 12 month freebie period, you'll start seeing Greener Life charges added to your bill, to the tune of $4.99 per month. That adds up to around $60 extra over the year!
Oh, and don't think the pricey default rate risk doesn't apply to this plan too. In fact, it's the biggest increase of the bunch. The default variable rate currently stands at $2.039 per therm! 
Atlanta Gas Plan Expiration Tips
The takeaway here, folks, is that expired natural gas plans will land you with truly rotten monthly bills. Watch the date! Make sure to set reminders in advance for when the expiration date is looming! And if you find yourself asking, hey, when did your Atlanta gas plan expire? Then it's time to get shopping for a new one, at www.georgiagassavings.com!