Save Money with the Best Atlanta Gas Plan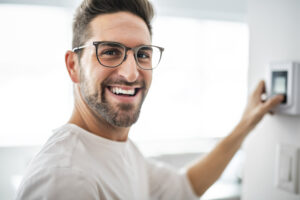 It's finally time to save with spring shoulder month rates. You can lock in a cheap rate now and get a lower Atlanta gas bill for a year or more. Learn which is the best Atlanta gas plan choice for your family right now!
How to Choose the Best Natural Gas Plan
You're already taking the first step in choosing the best by shopping for natural gas plans mid-March. This is when prices tend to be the lowest for the year. The EIA shows this trend for cheap gas prices for spring shoulder months. According to their data, we're at the bottom of the valley right now. But the predictions also suggest rates could be even lower this time next year. That means going with a 12-month fixed-rate plan is a great option to save now. Then you'll want to compare and choose a new plan next March.
Provider with the Best Atlanta Gas Plan
First up, Georgia Natural Gas® beats its competitors with the cheapest natural gas rate to save you the most money.
The Georgia Natural Gas® 12-Month Fixed Rate Plan tops our list of recommended plans right now with a cheap rate for 12 months. You'll pay $0.599 per therm and a $5.99-$8.99 monthly fee. To sweeten the deal, the provider also offers Greener Life® free and up to $200 in fixed contract exit fees. But, be aware the plan charges an early termination fee of $50-$100. Lastly, the rate is only available to new customers. Anyone who has used the provider in the past will pay a rate of $0.609 per therm.
More Options for Best Gas Plan
If you prefer to lock in a great rate for a longer period, the Georgia Natural Gas® 24-Month Fixed Rate Plan is your go-to. Although you might miss out on lower rates when next spring rolls around, you can feel good about locking in the low price of $0.599 per therm for two years. With this plan there's a monthly fee of $6.99-$9.99 and a $50-200 ETF. Similarly to the 12-month plan, you get Greener Life® for 12 months, and up to $200 exit fees. However, this price is also only available to new customers.
There are other providers with solid 12-month plans, too. The Constellation 12 Month + Water Heater Protection is going for $0.649 per therm. The plan also includes water heater protection for the length of your contract, a $71 value. However, even with this added incentive, the price per therm doesn't quite match up to the Georgia Natural Gas® plans. The monthly fee for this plan is $7.95 and the ETF is $150.
Please note that with all these plans you must pay attention to when your contract ends. Unless you choose another plan, Georgia Natural Gas® automatically enrolls you into their variable rate plan. Constellation may enroll you in either their variable rate plan or another fixed rate plan of their choice. Compare natural gas plans towards the end of your term before you find yourself paying a higher rate.
Lock in Spring Savings with the Best Gas Plan
As the days get longer and warmer, your natural gas bill should be getting lower. Make it happen by locking in a cheap spring shoulder rate. Pick out your next natural gas plan today at https://www.georgiagassavings.com.