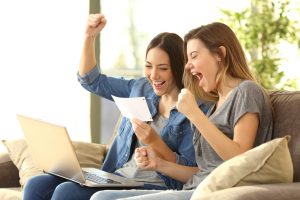 Should I Really Shop No-Contract Gas Plans?
Regular readers are probably sick of us warning about the risks of no-contract gas plans. But the truth is, sometimes, these plans provide a smart household energy solution. The problem is, shopping for the right one can feel like navigating a minefield. The wrong plan could blow up, expensively, in your face…
The good news is, you can protect your wallet with a healthy dose of caution. Firstly, watch out for intro rate plans. These bargain rates will apply for a limited time only, so have an exit plan ready for when the term ends. Secondly, no-contract plans use variable rates which can spike drastically, particularly in summer and winter. So avoid signing up during these seasons. Thirdly, as with all plans, watch out for those extra money-saving incentives!
Let's see which of the available no-contract gas plans in Georgia are your safest bet… 
Best Natural Gas Rates on No-Contract Gas Plans
First off, the Pre-Pay Plan from Georgia Natural Gas. This slightly unusual no-contract plan has customers pay an estimated energy bill in advance. If needed, the balance is corrected at the end of the month. This plan, however, comes with a steep and variable 1.689 dollars per therm rate, on top of a hefty $8.99 monthly charge. You'll benefit from a $30 welcome credit, no early termination fee, and up to $150 to cover exit fees from your current provider. But we think short-term shoppers can do better. 
Still carrying a hefty variable rate is Gas South's BridgePlan Variable. The 1.49 dollars per therm rate is again steep, and the monthly charge runs between $6.95 and $9.95. At either end, this will add up over time. One potential upside, however, is for customers with little to no credit. The BridgePlan Variable will help you eventually access natural gas plans at a lower rate.
More appealing to customers in need of a cheap stop-gap solution is Scana's Introductory Variable Rate. The bargain 39.9 cents per therm rate applies for one month only, along with a monthly charge of $5.95. After that, they'll turf you out onto their significantly more costly variable rate plan. Before that, though, you'll enjoy one month of exceptionally cheap natural gas!
Cheaper by a whisker, however, is Gas South's other no-contract gas plan: Acquisition Variable. It's a similar one-month discount rate, this time of just 29 cents per therm. Whilst the monthly charge is a pricier $6.95 to $9.95, you'll gain up to $20 in bill credits. Again, however, make sure not to overstay your welcome, as they'll roll you onto their pricey variable rate plan after your first month. 
Shop the Best No-Contract Gas Plan Today
So if you need a quick month or two of no-contract natural gas, you have some good options. Just proceed with caution! And remember, a great way of mitigating the risk of costly bills on a no-contract gas plan is to keep your household energy usage low. For more tips, deals, and money-saving tactics, stick with www.georgiagassavings.com – the best way to shop no-contract gas plans in Georgia!