Bring Home a Natural Gas Line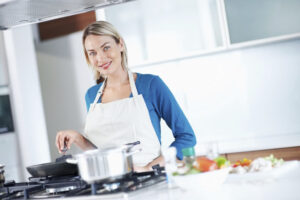 Are you tired of the hassle of refilling your propane tanks? Have you always dreamed of cooking on a gas range? Are you interested in upgrading to some new natural gas appliances? Bringing natural gas into your home has a lot of appeal. You get to turn over maintenance and delivery issues to your utility, Atlanta Gas Light. And you can even lower your GA gas rates. So, let's see what it takes to add a new natural gas line to your home.
Do I need a permit to run a gas line?
In many cases, yes. Each city will have its own codes that say whether you need a permit for a gas line project. Social Circle, Georgia, for example, requires a permit to install a new gas water heater. However, you don't need a permit to connect a gas range in Social Circle. Furthermore, some local codes only allow a licensed plumber to pull the permit.
Can a homeowner install a gas line?
Natural gas uses plumbing which is similar to water plumbing. However, unlike water, natural gas leaks are extremely dangerous to people and the environment. Even in a situation where working on your own gas line is legal, it is not recommended unless you have experience plumbing natural gas.
What is the cost of new gas lines?
Installing a gas line can get pricey. According to an analysis from Forbes, bringing natural gas to your house for the first time could cost $2,000 or more. Extending your gas line to a new appliance, on the other hand, tends to be a lot cheaper. According to Forbes, a gas line installation for a dryer averages $225 and a fireplace $750. These are all sizeable investments, but keep in mind that new natural gas appliances can be more efficient than electric. So, you'll save money on energy costs, especially with a cheap gas rate.
What is the process of adding a new line?
Installing a brand new main gas line requires some digging. So, prepare yourself for a decent size trench dug from your house through the length of most of your yard. For gas line extensions in your house, besides pipe fitting and drilling holes to install the hookup, there usually won't be too much disruption to the household.
Save on Natural Gas Today
If you decide to invest in a new natural gas line in your home, make the most of it! Although we can't help you with cost of adding the line, we can help you find the cheapest natural gas plan. Shop and compare natural gas plans in your area with us, we'll help you save money on your gas bill. Visit us today at https://www.georgiagassavings.com.