How to Celebrate Paddy's Day in Georgia's Irish Capital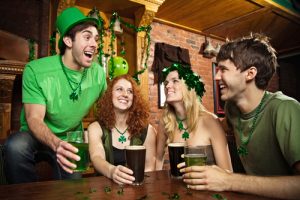 St. Patrick's day is tomorrow, folks – not that Savannah residents haven't been counting down the days already! Georgians have stronger Irish ancestry than anywhere else in the world, apart from England. And they first set foot, so the story goes, in Savannah itself. It seems like the area's thriving Irish community brought the party with them, because today Savannah plays host to one of the largest Paddy's day parades in the country. So crack out your green garb, lace up your jigging shoes… and get ready to raise a glass of the black stuff at the best Irish pubs in Savannah!
Where can I Celebrate St. Patrick's Day in Savannah?
First thing's first, you'll have to line your stomach. Kelley's Fia Rua Irish Pub is a stone's throw from the heart of Savannah in Richmond's Hill. And if washing down a bowl of Irish Nachos with a stiff Jameson's doesn't start the party for you, well, then we can't help! Hitch a ride into the heart of Savannah afterwards, but catch the Fia Rua crowd beforehand at 10134 Ford Avenue, Richmond Hill, 31324.
Next stop: O'Connells Irish Pub. It's known as one of the most authentic Irish pubs outside of Ireland's rolling hills. And with it's memorabilia-lined walls, it's a cozy favorite among locals and Paddy's day aficionados alike. The publicans named it after Grandpa Pat O'Connell, who owned a painting business in Savannah. Regarded by some as Savannah's "last remaining Irish pub", the bar acts as a cultural center for the area's Irish community. So come on and pour a cold one out for ol' Grandpa Pat, at 42 Drayton Street, 31402. 
How about then you move the party on to Mcdonaugh's Lounge – home to the best karaoke bar in Savannah! Because what's more Irish than a good song and dance? They'll be putting on live music all week to celebrate the occasion. So, if you've made it this far, don't miss the chance to carouse with the locals down at 21 E McDonough Street, 31401.
Party for St Patrick's Day at the Best Irish Pubs in Savannah!
It doesn't matter whether you're having a family day out, or a night on the town. No Paddy's celebration would be complete without visiting these top Irish pubs in Savannah! So polish your shoes, iron your best green outfits, and, well, maybe stock up on some Alka-Seltzer… And don't forget to check out www.georgiagassavings.com too. With all that Irish luck in the air, you might just land the best money-saving natural gas rate around!