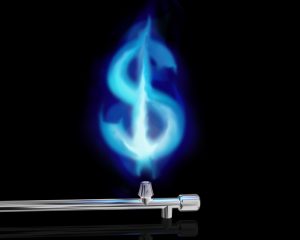 Where Can I Find The Cheapest Natural Gas Suppliers In Savannah?
Are you looking for the cheapest natural gas rates in the Atlanta Gas & Light service area? The best way to cut down on monthly natural gas costs is to find Georgia's cheapest price per therm. For Savannah residents, this is the Constellation 24 Month Metro Home Plan, which comes with a rock-bottom rate of just $0.389 for each therm you use. Constellation is our highest-rated natural gas marketer with 4 out of 5 stars, so you won't be sacrificing quality customer service for a great gas deal.
What Other Costs Should I Consider?
Every natural gas supplier in Georgia charges a customer service fee. Constellation charges $5.95, while other suppliers charge up to $9.95. While other suppliers charge the same monthly fee as Constellation there are none that charge less.
This is a fixed customer service fee charged to every bill, even if that bill is for a period of less than a month. So it will add somewhat to your monthly natural gas bill. Be sure to factor it into any budget calculations you make.
What Other Options Are There?
When it comes to contract commitments, 24 months is a long time. Plus, the plan also comes with a the $150 cancellation fee. You might want the ability to shop around for a better deal sooner than that. For just an extra $0.01 per therm, you can choose the Constellation 12 Month Metro Home Plan instead. While the 12-month version also has a $150 cancellaiton fee, you'll be free to shop around for a new plan sooner when the term ends.
With an average annual gas consumption of around 700 therms for Georgia households, an extra penny per therm will cost you around $7 per year. This can be well worth it if you can find a better deal next year, and if you can find ways to conserve natural gas around the home you'll save even more.
Is This The Right Time To Shop For Natural Gas Deals?
Yes, there is still time to lock in a low gas price. Gas rates usually rise significantly over summer and stay high until autumn. Find a cheap natural gas deal quickly, while these great rates are still available.
How Can I Check The Cheapest Natural Gas Suppliers?
It's our mission to help you find the best rates for natural gas, which is why we launched the Georgia Gas Savings app. Download this to your smartphone and you'll be able to quickly compare the latest rates from Georgia gas marketers. You can even switch supplier in just a few minutes! Find the app at https://www.georgiagassavings.com/apps/GA .