How to Lower Gas Bill in the Kitchen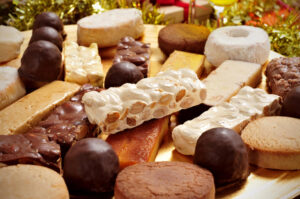 The holiday season always comes with added expenses. Between parties and presents, you can find your budget stretched a little thin. If you're looking for an easy way to save a few dollars, try lowering your natural gas bill in the kitchen. While you're prepping holiday treats, just skip the oven. Instead, save on gas with the best no-bake holiday treats.
How Much Gas Savings with No-Bakes?
I know it's the holidays, but let's do a little math! The average oven uses about 17,000 btu per hour. If you're in for a marathon weekend of baking, you could use over 400,000 btu's. That's about 4 therms. Now assume you pay around $0.90 per therm on your Atlanta Gas Light bill. This equates to about $3.60 in gas for cookies! And that doesn't even include the AGL delivery charges. Sure, you won't be rich, but you can definitely make your dollar go a little further with no-bake holiday treats.
No-Bake Easy Christmas Treats
With countless no-bake recipes available, we picked 5 standout options for ease, cost, and tummy appeal!
Puppy Chow: go for the classic peanut butter option or change things up with minty flavors. Either way, you only need to run your microwave for a few minutes to melt ingredients, then stir and enjoy! Add festive holiday sprinkles or candy cane pieces for a more seasonal look.
Cheesecake: believe it or not, you can make cheesecake with almost no appliances! A stand mixer will help with beating the cream cheese, but it's not a necessity. Smash graham crackers for a simple crust, dump in your filling, and chill for a few hours. Yum!
Truffles: a great option for something that looks fancy but is so cheap and easy. You can turn almost any of your favorite baked treats into a truffle by crushing and mixing with a firming ingredient like cream cheese. Oreo cookies are a great option. Then coat your filling in a layer of melted white chocolate. So easy! Take it to the next level with decoration and really impress your guests.
Bark: just a few ingredients and steps go into this holiday staple. Peppermint bark is so easy but looks so great and festive topped with crushed candy canes. You can customize bark to your taste with your choice of chocolates and add-ins like dried fruit, nuts, pretzels, and more.
Trail Mix: you couldn't ask for an easier treat with zero appliances involved. Bring the holidays to the mix by adding a few fun ingredients, like holiday M&Ms, dried cranberries, and mini marshmallows, to your base of mixed nuts and pretzels.
Cheap Christmas Desserts and Natural Gas
Limiting your use of natural gas appliances in one easy way to reduce your natural gas bill. These delicious no-bake holiday treat ideas will have you on the right path to natural gas conservation and cheaper energy costs. To save even more money on your Georgia gas bill, compare natural gas plans at https://www.georgiagassavings.com.