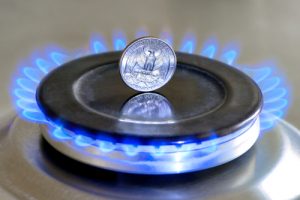 Fixed-Rate Natural Gas Plans Can Save You Money
Choosing a fixed-rate natural gas plan lets you save money. Variable-rate natural gas deals change each month, so you could end up paying much higher natural gas prices throughout winter and into 2021. Fixed-rate deals give you one price for the whole duration of the contract, and are a great way to save on your energy bills. So if you're in a variable rate plan and want to save money, choose the cheapest natural gas deals in Georgia and start saving today!
Cheap Fixed Natural Gas Rates In Athens
So, where should you start saving money? Let's begin with the Infinite Energy 12 Month fixed deal. This offers you a rate of $0.429 per therm, which is a great price for natural gas. You'll pay $5.95 per month in service fees. Bear in mind that if you want to cancel the contract early, the early termination fee is $150. 
If 12 months sounds too long, then a shorter plan might be ideal for you. The Georgia Natural Gas 6 Month Fixed contract offers a cheap price of only $0.469 per therm, but only to new customers who sign up before the 4th of October. This rate is a little more than the Infinite Energy deal, but it offers some extra flexibility. Firstly, with a low early termination fee of $50, you can easily switch if you change your mind. Secondly, Georgia Natural Gas offers to refund up to $150 of switching fees that you incur if you're coming from another provider. Monthly service fees begin at $4.99 per month, but can be $7.99 for some customers.
Great Deals On Natural Gas In Athens
Georgia Natural Gas also offers some other great rates on natural gas. Although the Georgia Natural Gas 12 Month Fixed With $25 Bill Credit has expired and the standard rate of $0.569 per therm applies, this provider still offers some great deals. The low rate of $0.469 is available on the Georgia Natural Gas 18 Month plan, as well as on the Georgia Natural Gas 24 Month Plan. But act FAST! This discounted rate is only to new customers who sign up before October 4th. Customers should remember that this rate includes a $0.10 discount per therm for paying bills on time. Georgia Natural Gas may rescind this discount if customers fail to pay promptly. 
It's also worth mentioning the Constellation 24 Month Metro Home plan. This offers a low price of $0.479 per therm to Athens residents, and is well worth considering. Monthly service fees are $7.95, and the plan comes with an early termination fee of $150.
Which Fixed Price Plan Is Right For You?
If you're considering a fixed-rate natural gas plan for the first time, you might be concerned about signing up to a contract. What if the natural gas provider is unreliable or unfair? To help you decide, we've collected hundreds of real customer reviews for natural gas providers in Georgia. Whether it's customer service, billing, or pricing, you can find a natural gas provider that'll treat you right. Switch natural gas providers and start saving today, safe in the knowledge that you're getting the best service around.