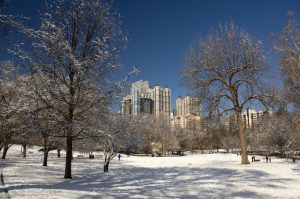 Since March 2016, when NYMEX prices bottomed out at 1.678, natural gas prices have been rising. In spite of unseasonably warm November weather when prices slid about 70¢/MMBtu, prices are on course to hit the $4.00 mark —which has not been seen since 2005!
What's happening?
First, in spite of the odds, there was the brief swooping visit from the Polar Vortex in December. While Georgia wasn't much afflicted by the chilly temperatures, the vast area parts of the northern great plains and upper midwest were hit with sub-zero temperatures. That means that a large urban area like Chicago, Des Moines, and Minneapolis had to burn huge amounts of natural gas to stay warm. The DOE's EIA points out that consumption during the first three weeks of December 2016 surpassed last year's level by 21% and topped the previous five-year (2011–15) average by 17%. December net withdrawals of natural gas from storage have been the largest ever recorded.
Second, the weak La Niña that emerged this month will bring a better chance for "above-normal temperatures for much of the southern U.S." from December 2016 through February 2017. Now, that's good news for natural gas customers in Georgia —but only during the short term. NOAA also warns in the same statement that "a slight tendency toward below-normal temperatures is forecast over parts of the upper midwest and northern plains". The current Short Term Energy Outlook (December 6) projects the overall forecast for the country is for temperatures to be 13% colder than the same period last year. While that's still closer to historically average temperatures, natural gas consumption will likely increase by 4% over last winter.
Lastly, production is flat. While that's partly due to fracking operations slowing down in the Marcellus, Utica, and Bakken shale plays for winter, it also shows the industry's attempt to realign the supply glut with a price. EIA predicts Southern states could see residential natural rates increase by 9.1 this coming year.
If you want to avoid paying more for natural gas this coming year, start researching the cheapest natural gas rates now. Whether you want to compare rates in Atlanta or find the best therms in Augusta, you always start saving money with Georgia Gas Savings!