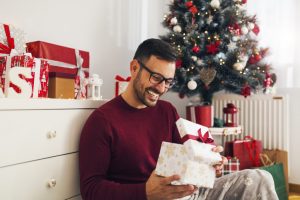 Find Energy Efficient Gift Ideas
The holidays are in full swing! This means there's so much to think about, and we know many customers are having a different kind of celebration this year. Maybe you're on a tight budget. Or maybe you're shopping conscientiously for gifts that'll keep on giving year round. But people can be so hard to shop for. With time running out, that's why we've compiled a list of our favorite energy efficient gifts. Because we know that getting a good energy deal can seem tricky. So on top of our helpful guides, here are some fuss-free ways you can help your loved ones save money – and the planet – all year round. 
Remote Control Outlet  
Firstly, one for the tech-heads or appliance-heavy households! Smart plug sockets are a great way of cutting energy expenditure from all those standby appliances and gadgets. On top of that, they're great if you're managing lots of difficult-to-reach sockets, or if reduced mobility makes it difficult to trawl around the house to find them. The Etekcity model can be controlled from up to 100ft away, and comes in at a reasonable $30. 
Draft Excluders
An oldie, but a goodie! And it won't break the bank. Draft excluders are great at reducing the room-chilling breezes that creep in under doors. Moreover, there's a load of independent, boutique companies making them out there, so you can rest assured that your holiday shopping will help support small businesses. Plus, you can get them to fit any character or interior. Try Akuarose or doradisegno for the dog-loving energy-savers in your life. 
Shower Monitor
A smart choice for anyone whose guilty pleasure is a long, hot shower. Shower monitors help you measure your energy expenditure as you wash, meaning you can precisely factor them into your energy budget each month. Moreover, the folks at Amphiro claim their shower meter can save, for an average three person household each year, the equivalent amount of energy used for all lighting/electronics. Plus, with products starting at around $84, they're offering a 20% Christmas shopping discount if you order now. 
Room Occupancy Sensor
Replace your light switch with a room occupancy sensor! The perfect gift if your kids, or your partner (or you!) have trouble remembering to switch off the darn lights. These sensors turn lights on when you enter, and off when a room's been left lit but unused. The Lutron Room Occupancy Sensor, for example, is a top choice starting at $20 per sensor. And it can be installed in just 15 minutes.
Radiator Booster
Finally, if you're a customer living with old-school radiators, you'll know they're great for drying towels – but not hot on energy efficiency. However, a radiator booster is an easy way of recouping some of those lost energy dollars. These boosters slot on top of the radiator, distributing more of that invaluable heat around the room. Try the radiator booster from RadFan, for around $60.
Find Gifts for Energy Efficient Geeks
In sum, folks, don't let the festive season leave your energy drained – let our energy-savvy gift ideas help you out! Plus, for more energy saving tips, browse our resources at www.georgiagassavings.com.