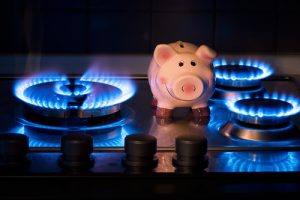 Where Can I Find Best Natural Gas Prices? 
Savvy Macon customers already understand the importance of shopping around for the best and cheapest natural gas rates. But we're all still reckoning with the continuing Covid fallout – and disruptions following recent events in Texas sure make plan-shopping seem a stressful prospect. All you want is a cheap rate, hassle free. So no fear! We've ranked the cheapest plans from a cross-section of our top rated providers. You can't go wrong, so let's see what they can do for you!
Compare Cheapest Natural Gas Rates
Firstly we have Gas South's Fixed 12 Month plan, with its 55 cents per therm rate. Whilst this is a good price, it's also the most expensive of our four providers' cheapest offers. The $150 early termination fee is up there too, and the $6.95 – $9.95 range for the monthly recurring charge doesn't promise a bargain. You could, however, save on this plan by earning up to $20 in bill credits. 
The Infinite Energy 12 Mo Fixed plan will get you energy for 51.9 cents per therm. The $150 early termination fee is still at the top end, but the economical $5.95 monthly recurring charge makes this a great bet for customers who don't anticipate needing to switch mid-plan. 
The Georgia Natural Gas 12-Month Fixed plan offers a 48.9 cent per therm rate, and an early termination fee ranging from $50 to $100. The monthly recurring charge ranges from $5.99 – $8.99. Note that this is a discounted rate available for customers signing up before April 4th, so be quick! GNG will also credit up to $150 to cover exit fees from your current provider. Plus, they're our most highly reviewed provider among other customers. 
Constellation's 12 Month Standard: Water Heater Protection is easily the cheapest rate, at 45.9 cents per therm. Early termination will still cost you $150, and the monthly recurring charge is $7.95. These are, however, pretty standard charges – and probably worth it to lock in that cheap rate for a full 12 months. This plan offers water heater protection (valued at $71) for free. Watch out, however, because not all systems are covered. Customers should check in advance with Constellation. Attractive too is their 90 day risk free guarantee – you'll have nearly 3 months to duck out of the plan, free of charge, if it's a bad fit!
Best Natural Gas Rates for Macon, GA
So, finally, you can throw yourself into spring plan-shopping with confidence! Any of the above plans will guarantee you cheap natural gas rates for a full 12 months. Simply pick which price and provider best ticks your boxes. You can head over now to www.georgiagassavings.com to easily bag the cheapest natural gas rates in Macon, GA.