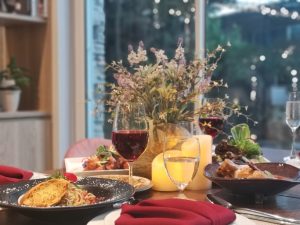 Romantic Dinner To-Go For Best Date Night Ever
Valentine's day is just around the corner, and it's sweeping in on the back of a chilly Winter and, well, a turbulent year. We've all been busy and distracted and hankering for a bit of time alone with our better half. So what better occasion to grab that best beloved, pick that special gift, and hunker down for a romantic night in? All you need is the perfect Valentine's banquet – and, as ever, we've got you covered. We've lined up five mouthwatering romantic dinner to-go suggestions for all you Savannah lovebirds. We hope you're hungry.
For Classy Carnivores
Devour a dish of USDA Prime beef to get the juices flowing with Ruth's Chris Steakhouse, who's offering their romantic dinner to-go for two. Choose a salad, starter, and entree each, then two side dishes to split, and a dessert. This juicy, red-blooded deal for two starts at around $150. That's a great low priced plan in Savannah.
For those Valentine's Oysters
Next up – what more fitting for Valentine's than a traditional oyster plate? Order in from Repeal 33, whose takeout options include a raw bar and and acclaimed Southern inspired cuisine. We recommend the oysters, local cheeseboard, and a succulent plate of shrimp and grits. You can place your order from Grubhub.
For Loyal Locals
With their farm-to-table philosophy, Cha Bella offers a mouthwatering menu sourced predominantly from hyper-local ingredients. And they've harvested from that a rich array of steak, fish, sharing boards, and great vegetarian and gluten-free options. Their menu changes according to ingredient availability, so head to their order page and surprise your partner (and yourself) on the day.
For Surf and…Surf
St. Neo's may not offer a huge takeout menu, but you know the highly rated seafood brasserie is going to deliver – tastewise– and to your front door. Choose from small plates of burrata and Georgia peaches, or devilled blue crab. Then for main – blackened shrimp or crispy red snapper, with wines to accompany. Order everything on the menu, and wrestle over the last bite.
For Boozy Brunchers
Finally – luxuriant candlelit dinners aren't for everyone. Especially if you're looking to make savings this year. And fewer things have more charm than the lazy, boozy brunch. Plant-based cafe Fox & Fig specializes in "brunch-centric" food, and has been hailed time and again as the best vegan joint in town. We recommend languishing on the couch with some spicy Tostadas Verde, some syrupy Gunslinger Pancakes, and switching out the mimosa for some cold-weather Hot Spiced Wine.
Romantic Dining in Savannah, GA
Although romantic getaways and opulent restaurant dining might be out of sight, it's a blessing in disguise. So swipe one of the above delicious spreads to have at home. Light the candles, and say goodbye to pricey parking and designated driving.
Plus, if you're short of a gift… sneak over to www.georgiagassavings.com. Nothing says 'I love you' like the long-term savings of the right energy plan!