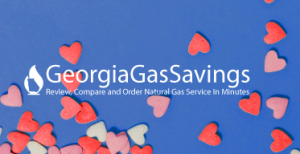 Natural Gas Plans To Fall In Love With This Valentine's Day
Valentine's Day is the perfect time of year to fall in love with the cheapest natural gas prices around. Are you in a committed relationship with your natural gas provider? Or are you looking for a new love that'll help you save money? We're ready to find you the perfect match! Meet our lineup of the cheapest natural gas deals in the Atlanta Metro Area, and find out if it's love at first sight!
Who Has The Best Price For Atlanta Natural Gas?
Contestant number one is the Constellation Metro Home 24 Month plan. This deal is looking for long-term commitment, with a contract period of 2 years. However, with a low, low rate of only $0.339 for every therm you burn, why would you want to leave? We don't know whether this plan likes piña coladas or getting caught in the rain, but we do know it could save you money on your natural gas bill!
Up next is the Constellation Metro Home 12 Month plan. This deal is happy to keep things casual, with a 12-month contract period that lets you stay because you want to, not because you have to. The Constellation 12 Month Metro Home deal gives you a cheap deal on natural gas. $0.349 per therm is enough to catch anyone's eye. Will the natural chemistry of this gas plan light up your life this Valentine's Day?
Meet Your New Natural Gas Plan
Our next contestant, the XOOM Energy RescueLock 12, loves animals. That's why 5% of your monthly energy bill will go straight to PetSmart Charities when you choose this natural gas plan. The XOOM Energy RescueLock 12 doesn't just help you look after our furry friends – it'll keep you warm this Valentine's Day with a cheap rate of $0.369 per therm.
Looking for a good time, not a long time? Then the Infinite Energy 6 Month Plan is perfect for you. You'll still only pay $0.469 per therm, and without long-term commitments you're free to keep an eye on other natural gas plans in the Atlanta Metro area. 
Our final natural gas plan is the perfect partner for a long-term relationship. The SCANA Energy 36 Month Natural Gas deal brings long-term stability and a reliable price of $0.489 per therm. If you're fed up with switching natural gas provider every year to find the best price, then why not settle down with this deal?
Find The Perfect Match This Valentine's Day
These natural gas plans are all ready to keep you warm this Valentine's Day. You can easily save money by choosing one of these natural gas deals, but we know you need to be sure they'll treat you right. That's why we let you read real reviews of Georgia gas providers. 
If you want to find the hottest natural gas plans in your area, why not download the Georgia Gas Savings app? We make it simple and easy to switch natural gas provider (although it's not quite as easy as swiping right). Find the app for Android and iOS here: https://www.georgiagassavings.com/apps/ga