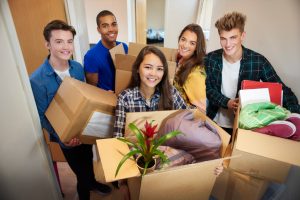 Which Atlanta Natural Gas Plan Is The Best For Movers?
It's always smart to try and save money on natural gas, and one problem area that many people run into is what to do when they move. Most natural gas plans in the Atlanta Gas & Light service area last for 12 months or longer. Fantastic if you'll be staying put, but if you're planning to move they might not be right for you. Why lock yourself into a 12-month contract when you'll be leaving in 6 months? Students, especially, find themselves asking this question, and it can be difficult to decide what the best option is.
Should I Choose A Short Term Natural Gas Plan?
While most natural gas plans are available for a year or more, there are a few that can be found for 6 months. Atlanta residents can currently choose the Infinite Energy 6 Month Plan, which costs $0.589 per therm, with a recurring monthly service charge of $5.95. However, this high cost per therm means that the total cost of your natural gas bill is likely to be higher than it would otherwise be in a 12-month plan.
What Other Options Do I Have?
The best alternative to the Infinite Energy 6 Month Plan is the Constellation 12 Month Metro Home Plan. While you'll still be charged $5.95 every month as a service fee, your cost per therm drops to $0.399; almost the best available on the market. You're saving 19 cents per therm, which can add up to a significant amount – a busy household can use 60 therms per month on average, though of course, you can cut down on your monthly natural gas usage.
Early Cancellation Fees—What Happens When I Move?
The problem with choosing a natural gas plan that lasts for longer than you'll be in the property is the question of what happens when you move. If you choose to switch natural gas providers, you will most likely be liable for an early cancellation fee – Constellation charges $150 for this. However, under Georgia law, consumers are allowed to continue their contracts with their natural gas supplier in Georgia at a new address as long as it's within the Atlanta Gas & Light service area. In addition, if you move to a location where your natural gas provider does not offer a service you also won't be charged. If you know you'll be leaving the state in 6 months time then go ahead and take out a longer fixed term contract; you won't be charged an early termination fee when it's time to cancel.
Why Not Choose A Long Fixed Rate Natural Gas Deal?
While a 6-month plan is more expensive, it does give you a degree of freedom which is great if you're not ready to commit. It lets you switch with no fee at the end of the term and that's invaluable if prices begin to drop. However, if you're going to be moving, then the plan by Constellation offers a significantly better deal! Be sure to keep up with the cheapest natural gas rates in Georgia by downloading our new app at https://www.georgiagassavings.com/apps/GA