Earth Day Events in GA Are Back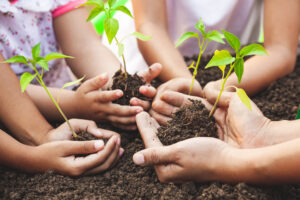 In 2020, I moved to a new, vibrant city. Sure, shopping the best natural gas rates took some getting used to. But, I was excited to take part in local events and become part of the community. However, it took quite some time for that dream to become reality. In recent years, we've all been similarly frustrated with event cancellations and restrictions. But this April those struggles are shrinking into the rear view. Great Earth Day events are taking place across the state, from Atlanta to Augusta to Savannah. So, we put together a list of top choices to help you enjoy Earth Day 2023 in GA.
Family Friendly 2023 Earth Day Events
First, the Atlanta Botanical Garden Earth Day event is a unique, kid-centered event. The focus is helping the planet and learning about cultures around the globe. This year it will feature a show by a children's theater group. Also expect fun activity stations that include trying out musical instruments and planting seeds to take home.
Also in Atlanta, the Children's Museum is hosting a month-long event honoring the Earth. Kids will enjoy green activities like making seed paper and learn about recycling and more.  
Finally, in Augusta, Fort Gordon welcomes kids and families for fun. Rock painting, seed planting, and an upcycling art activity will keep the kids busy and learning about the planet. Organizers ask that each kid comes with an empty toilet paper roll.
Energy Efficiency-Focused Events
The Drive Electric Earth Day Event is sure to impress anyone! From an EV car show, solar installers, non-profits, and fun for kids, this event in Dawsonville has it all. Entry is free and lunch is available for a fee. You'll learn about the impacts of climate change and what we can do to change it while having fun.
Earth Day Savannah returns this year for the first time since 2019! The event centers on educating attendees about the clean energy goals of the 2021 100% Savannah Plan. Additionally, organizers want to share facts about natural disaster preparedness and resource conservation. But learning isn't the only thing on the docket: entertainment includes live performances and food trucks.
Keep America Beautiful (KAB) affiliate events are taking place all over the state. From Rabun to Thomas counties, these groups are in action with many hosting Earth Day events. For example, in Liberty County, the KAB affiliate plans to focus their event on organic foods, eco-friendly products, and green energy. Find out what your nearest affiliate is doing through the Keep Georgia Beautiful Foundation.
Celebrate Earth Day by Conserving Natural Gas
If you want to find more ways to celebrate Earth Day, conserving natural gas is a beautiful option. Not only is this great for the Earth, but it also helps you lower your energy costs. Taking a few simple steps can have a big impact on your natural gas use and monthly bills. Try things like replacing weatherstrips and old caulk, turning down your thermostat and water heater, and changing HVAC filters. And to lower your bill even more, shop for the best natural gas plan at https://www.georgiagassavings.com.