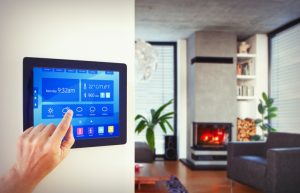 5 Gifts That Will Save You Energy This Year
At Georgia Gas Savings we're dedicated to saving you money on your natural gas bills. But that's not all we do – as Georgia's leading provider of great rates on natural gas, we want our customers to save money across the board. As well as finding the best rates, you can also save money by cutting back on the energy you use in the home. Here are a few of our favorite gift ideas – treat yourself or someone you love to the gift of great savings.
Keep Costs Down With Nest
One of the new millennium's coolest inventions has been the creation of "smart home" technology. Creating a linked network within your home has never been easier, and the Nest thermostat is perhaps the best way to get started. By learning your daily routine, and cleverly adapting your home's environment to perfectly suit your needs, Nest can make sure you're only paying to heat or cool your house when you really need to. In fact, you can even get a free Nest thermostat with the Infinite Energy Nest plan. Why not switch today?
Delicious Savings – Cooking Gadgets
Pressure cookers and slow cookers are fantastic ways to make delicious meals while saving on energy bills. Both systems use far less energy than the equivalent traditional methods would. A slow cooker uses very little more energy than a lightbulb, so even if you leave it running all day it'll still only use a third of the power that your oven does. Remember, if you're looking to save energy with home appliances, you should always check the efficiency rating first.
Seal Your Crawl Space
Many homes in the Atlanta Gas & Light service area have unsealed crawlspaces. Over winter, the cold air and moisture trapped beneath your floorboard will leach heat from your home. Your unsealed crawlspace is costing you money as your heating has to work harder, and can also introduce mold and mildew into your home. Invest in crawlspace encapsulation to help prevent this, and to save money on your natural gas bill.
High Efficiency Light Systems
An easy fix, this one – simply swap out incandescent bulbs for modern LED equivalents. Although they're more expensive, these bulbs consume only about ⅓ to 1/30th of standard incandescent bulbs, and will help you cut back on power bills. Make strategic swaps; pick bulbs that are in use all the time, such as the kitchen and living room.
Invest In A New Gas Furnace
Well, it isn't the most exciting gift, but if you're looking to save money on gas this year then a new furnace could be the best investment you could make. Modern systems aren't just more efficient, they're more reliable and safer, too, making them an excellent way to spend money. Look for certified "Energy Star" furnaces that provide up to 11% savings on your natural gas bill.
Give Yourself The Gift Of Saving
Spent all your money on gifts for the kids? Well, there's one way to save which doesn't cost a penny; simply download the Georgia Gas Savings app today and view the very best rates for natural gas in your area. Find and switch deals right from your smartphone; find and download it here: https://www.georgiagassavings.com/apps/GA