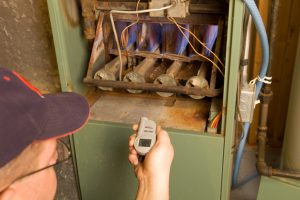 When's the Best Time to Lock in Natural Gas Rates?
Winter is approaching, and Georgia customers will start feeling the pinch as cheap Fall natural gas prices are replaced with hikes and spikes in Winter energy cost. Add to that the possibility of Covid measures keeping you or your loved ones locked home, and it seems like costly changes to your energy bill are a-knocking.
But there's still (just about) time to lock in cheap gas prices! You should act now with GeorgiaGasSavings to compare affordable 24 month plans. Let's look at your options.
Should I Lock in 2021 Natural Gas Rates?
Yes! Here's three money-saving reasons why.
Stay low-cost! Cold weather, high natural gas demand, and lower supply by January means natural gas prices are likely to rise this season. And even though there's record amounts of natural gas in storage, it's not known how much winter heating demand will cut into that amount. So, it's possible that we're unlikely to see the normal Spring shoulder month price dips in 2021.
Stay on budget! Covid measures mean unseasonably high energy usage is forecast for Georgia natural gas customers this Winter, and you don't want any nasty billing surprises. Lock in a low fixed term energy rate now, and you'll keep bills on budget for the next two years.
Save even more! Natural gas suppliers are currently offering additional material and financial incentives for long-term customers. Net 2 years' worth of benefits now, before they disappear.
What are the Cheapest Natural Gas Prices for 24 Month Fixed Plans?
Using the Georgia Public Service Commission (PSC) estimated residential therm usage of 717 per year (1,434 therms over 24 months), we ran the numbers on 24 month fixed natural gas plans for Georgia residents. We found you the three cheapest options.
| | | | | | | |
| --- | --- | --- | --- | --- | --- | --- |
| Plan | $ per Therm  | Therm price over 24 months (1,434 therms) | Monthly Recurring Charge | Recurring Charge x 24 months | Total | Additional Savings |
| Constellation 24 Month Water Heater Protection | $0.479 | $687 | $7.95 | $191 | $878 | Benefit from year-round water heater protection, valued at $142. |
| Scana 24 Month Fixed with $75 in bill credits | $0.559 | $802 | $6.95 | $167 | $969 | You may be eligible for $75 in bill credits. |
| Infinite Nest Plan | $0.549 | $787 | $9.95 | $239 | $1026 | Nest Learning Thermostat could reduce your bill 10% down to $923. The thermostat – valued at $295 – is free. |
The Constellation 24 Month Water Heater Protection plan is the cheapest 24 month natural gas plan at $878 for the full term. But you'll also get water heater protection thrown in for free. Valued at $142, this means you could save big on 'life-saving' boiler repair and call-out costs.
The SCANA Energy 24 Month Fixed with $75 in bill credits is also a good option price-wise, at $969. But the additional $75 credit will give you a little wiggle room if your natural gas usage spikes during winter or summer months.
Whilst the Infinite Nest Plan seems priciest at $1,026, the free Nest thermostat could knock 10% off your energy bill. And, while smart thermostats save you money, they don't come cheap. That's why getting this top-of-the-line smart thermostat (valued at $295) for free is a money-saving steal. (Note: Infinite Energy has recently been acquired by Gas South.)
It's the Best Time to Lock in Natural Gas Rates
Now is the time to lock in a 24 month fixed natural gas plan because you will lock in today's low pricing for the next two years.  With all the variations and valuable extras, finding the perfect fit might seem daunting. But read reviews and check out company ratings and you'll find all the advice you need at https://www.georgiagassavings.com.