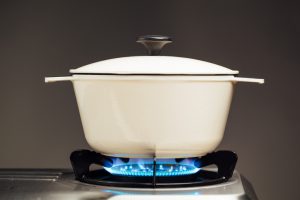 What Caused The Explosion?
The woman whose Canton, GA home exploded reportedly explained that she'd smelled natural gasearlier in the day, and was investigating a leak. Unfortunately, she stayed in the property waiting for her son, and the gas eventually built up until it exploded.
The property detonated with enough force that a neighbor several doors down thought his own home had gone up. "It was very powerful . . . it was very obviously an explosion", said neighbor Jim Whitehead. His neighbor got out of their house just in time – only a few minutes after they scrambled into the backyard, the whole house was in flames. It's not often that customers in the Atlanta Gas & Light service areahave to worry about natural gas hazards, so this story comes as a shock to local residents.
Should I Be Worried About Natural Gas Leaking?
 Readers may remember the Merrimack Valley, Massachusetts, natural gas explosions just a few months ago, where faulty pipeline maintenance work took the life of one person and left thousands without natural gas for days. It doesn't appear that the Canton house explosion is caused by a similar issue, and is most likely simply an isolated case of natural gas leaking.
Should I Be Worried About Natural Gas Leaking?
The most important thing to remember is that if you smell natural gas, you have to leave immediately. As we've seen from the case in Canton, if you hesitate it can give the gas a chance to build up with potentially fatal consequences. Thankfully, Friday's explosion only resulted in minor injuries, but an explosion of this kind can be extremely hazardous (not to mention costly).
 We've seen natural gas explosions before in Georgia, including one case in June where a natural gas explosion was set offby lighting a candle to cover foul smells. We can't stress enough how important it is to understand what you can do to keep safe around natural gas.
Our Top Natural Gas Safety Tips
Firstly, we should repeat this again; if you smell gas – leave. That comes straight from the Atlanta Gas & Light emergency natural gas advice, so don't be tempted to hang around. Once you're out of the property, warn your neighbors and call the emergency line on 877.427.4321, or phone 911.
Next, natural gas leaks are often caused by poorly maintained and aging equipment. As colder weather sets in, we strongly recommend that you take a look at our winter furnace gas safety tips. This equipment is often in heavy use over winter, and it's essential to ensure that it's working 100% safely, especially if it's an older system.
 Finally, make sure that everyone in your home is equally aware of the importance of natural gas safety. It can be very tempting to think that you're just imagining the smell, or that you don't want the potential embarrassment of a false alarm. However, as Friday's explosion proved, the price of waiting can be very high. Although we're experts in providing cheap deals on natural gas, at Georgia Gas Savings our first concern is for you and your family's safety.