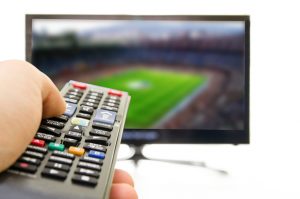 Find A Big, Efficient TV To Watch the Super Bowl LIV
On February 2, Americans all over the country will be meeting up to see whether the Chiefs or the 49ers can clinch the title. The Super Bowl isn't just the most exciting event in the sporting calendar. It's a great reason to meet up with friends and family to watch the game. If you've got friends coming over to watch, you need a big screen so everyone can see. Don't end up with the wrong set, though. The size of your TV is a big contributing factor in how much electricity you use. And if you want to save the most you can on your monthly Georgia energy bills, then it's important to pick the right one.
Is Now The Time To Buy A Cheap TV?
Yes! New models are released in the spring. That means the TVs on the shelves today are 2019 models, and retailers want to get rid of them. So, now is the time to shop for the best price. You can find some great discounts by checking online, or at your local retailer. Of course, even if you save money on the shelf price of your new TV, you need to make sure your energy bills don't increase as a result. Choosing an energy-efficient TV is just as important as saving money when you buy your new screen.
How Much Electricity Does My TV Use?
As a rule of thumb, the larger your TV is the more energy it needs. A small 18" TV might only draw 30 or so kilowatt-hours (kWh) per year, but a large 65" screen TV using the same technology can push this number up to 140 kWh per year. The average Georgia electricity price is between 12-15 cents per kWh, so we can say that every 80kWh comes out to roughly $10 per year. That's not a huge amount (you can certainly save more by finding a cheap natural gas deal), as long as you pick the right TV.
Best BIG TV Brands For Energy Efficiency
The best place to start looking for energy efficient TVs is on the EnergyStar website.  EnergyStar looks at several aspects in the way a TV uses energy. For example, EnergyStar takes into account how TVs use power based their standby power mode and their ability to connect to the internet. The EnergyStar spec for qualifying TVs must consume no more than 0.5 watts in standby mode while internet connecting TVs must consume no more than 3.0 watts while in standby or "low" mode (meaning the TV is off but can still connect to the internet).  True, that's not a lot of energy but even the energy efficient TVs have conveniences you'll need to pay for.
When it comes to big TVs, we're going with screens around 65 inches across diagonally or more. Currently, EnergyStar lists two excellent energy efficient big TV sets. The 64.5" NEC model draws 141kWh annually for an average user. The competing 74.5" Vizio model provides a substantially larger screen but only draws 165kWh annually on average. At roughly $10 per 80kWh, that means you could spend $17 per year on the NEC TV and about $20 on the Vizio. 
Comparing Efficient TVs
These aren't the only great-quality big TVs that keep electricity costs low. CNET rates the TCL 6-series 65" TV extremely highly. As a large-screen TV with QLED technology, it uses a comparable amount of electricity to the other 65" TVs we've looked at. If you want to go even bigger, the TCL 75" TV also received rave reviews (though a larger screen means you'll spend more on electricity usage).
If you're willing to spend more upfront, and you're looking for the best picture quality around, then an OLED TV may be worth considering. The LG OLED B9 gives you excellent picture quality, and by OLED standards is quite reasonably priced. OLED also cuts down on the electricity you use – OLED doesn't need a backlight, unlike other technologies, so it draws less current. 
Make Super Bowl LIV A Success
A new widescreen TV is the perfect way to impress friends and neighbors and have fun. Keep energy usage low during Super Bowl and you can have a great time while still saving money. With a little thought and some knowledge, any Georgia resident can save themselves a few dollars this year.