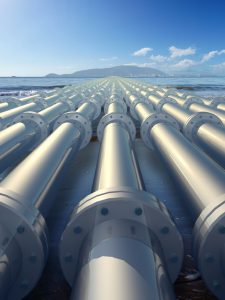 What's The Total Number Of Natural Gas Pipelines In Georgia?
The infrastructure that's used to transport natural gas is enormous, with networks of pipelines criss-crossing the USA from coast to coast. Georgia is home to two of these conduits, with a third natural gas pipeline under construction. The state is also covered by a whole network of smaller gas main lines, and in this article we'll take a look at how the whole system works.
Is Natural Gas Produced In Georgia?
Although natural gas is widely available in Georgia, none if it is actually produced in-state. Everything we used is pumped in from out of state, which results in a slightly higher price than in states like Texas, West Virginia and Pennsylvania. In these states, massive gas fields pump out more than 2 billion cubic feet per year. That's why it's so important to find cheap rates for natural gas in Georgia, because it's so easy to spend more than you need to!
How Does Natural Gas Reach Georgia?
Natural gas reaches us through two major pipelines, the Transcontinental Gas pipeline (Transco), and the Southern Natural Gas (SNG) pipeline. The SNG line is huge – it stretches nearly 7,000 miles from the supply basins of Louisiana, Alabama and Mississippi all the way to Florida, passing directly through Atlanta on its way, where it supplies the Atlanta Gas & Light service area with natural gas. The SNG is big, but it's dwarfed by the Transco line. Transco runs from Texas all the way to New Jersey, totalling 10,500 miles of unbroken pipeline.
How Is Natural Gas Distributed In Georgia?
The interstate pipelines that deliver gas into Georgia are enormous, carrying natural gas at between up to 1500 PSI of pressure. This compresses the gas and allows it to be distributed very quickly, but it's under far too much pressure to be used in a home. Instead, the SNG line terminates at a meter station in Atlanta where it's channelled into a network of smaller intrastate pipelines. At this point mercaptan is added to the gas, giving it the rotten egg odor that lets you detect a natural gas leak in your home.
How Does Natural Gas Reach My Home?
While natural gas has now been distributed into these smaller gas main pipes, these are still running between 50 and 200 PSI – way more than your boiler or cooker can handle. These gas mains will carry gas through each county and town. Smaller lines branch out to to each home. These lines run at a far lower pressure. Your home will have a pressure regulator that reduces incoming gas to about 0.5 – 1 PSI, and routes it into your property. At this point, the gas is ready to use, and can be safely connected to your natural gas equipment.
Keeping Your Natural Gas Bill Low
With all of our natural gas coming from out-of-state, Georgia residents can find themselves hit with hefty rates. Disruptions to the natural gas supply can cause prices to rise, so it's always important to find yourself a cheap fixed rate natural gas deal. The best way to do this is with our Georgia Gas Savings app; you can compare plans and switch right from your smartphone. Start saving today by downloading the app here: https://www.georgiagassavings.com/apps/GA